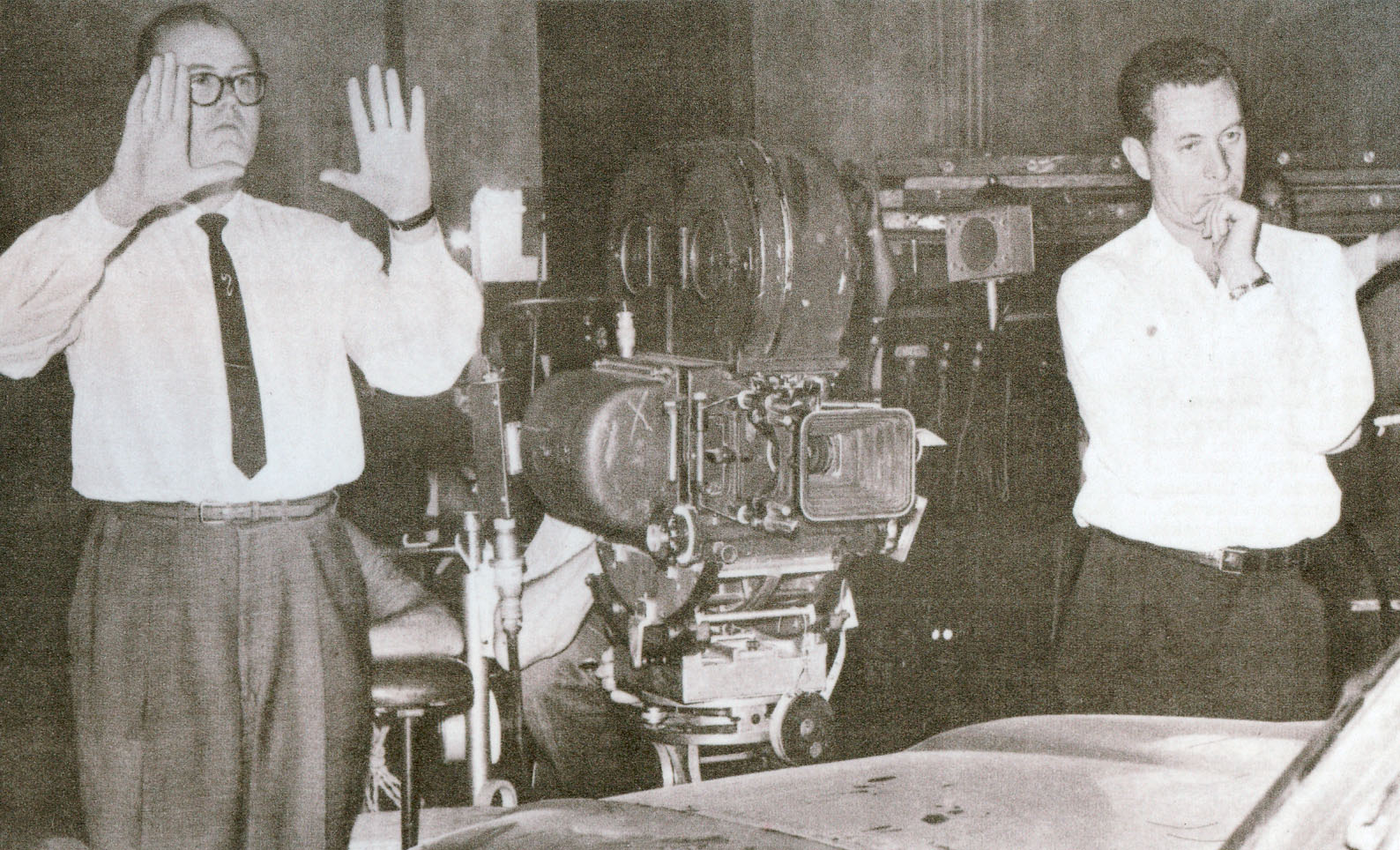 Associate Producer Ib Melchior (L) and Leo Handel on the set of Handel's feature film 'Patty' (1962)
View Leo Handel's e The Mexican-American: Heritage and Destiny
Leo Albert Handel's Handel Film Corporation produced a catalogue of an estimated 131 16mm academic classroom films in subjects including ethnicity and racial diversity, science, history, and art. He also made what may be the first feature talking picture advocating the right of women to make their own reproductive choices.
Born in Vienna, Austria on March 7, 1914, he was educated in Austria, England, France, and Germany. He sold his first short story at the age of 16, the beginning of a writing career that included several books, numerous articles, and commercial film screenplays. He emigrated to the United States in 1938, armed with a degree in Economics and Marketing Research. He was hired by David O. Selznik for his first major professional position as Director of Audience Research for MGM from 1942 to 1951, his tenure interrupted by a stint in the U.S. Military Intelligence Service in 1944-1945.
Handel was drafted into Army Intelligence and served with the 10th Mountain Division, 87th Regiment. He is believed to have been recruited as one of the Ritchie Boys, one of approximately 15,200 servicemen who were trained for U.S. Army Intelligence during WWII at the secret Camp Ritchie training facility, assigned there because of fluency in German, French, Italian, Polish, or other languages needed by the US Army during WWII, on secret orders. Specializing in interrogating Nazi war prisoners, Handel received a Bronze Star Medal for his work, some of which is documented in friend, filmmaker, author, and military colleague Ib Melchior's book Case by Case: A U.S. Army Counterintelligence Agent in World War II (1993).
His 1950 book Hollywood Looks at its Audience: A Report of Film Audience Research was a culmination of his findings while employed at MGM. Handel eventually obtained a PhD in Economics.

He moved to Los Angeles, founding Meteor Productions in 1951 and Leo A. Handel Productions (1953) focusing on films for television, before founding the Handel Film Corporation. His interests included German shepherd dogs (he wrote two books on the subject) and in the 1970s claimed to own "the most comprehensive film library pertaining to atomic energy in the field."
Leo Handel produced, directed, and wrote many of the films in the Handel Film Corporation catalogue over a span of 37 years. Handel's first 12 films were released in 1954 on the subject of atomic energy. Under his label, Handel produced or distributed films made by a number of exceptional filmmakers, including Norman Foster, Peter Mertens, and Irene Zmurkevych-Antonovych.
In 1991, his company was one of the last to release a classroom film in the 16mm format.

His only feature film, Patty (later known as The Shame of Patty Smith and The Case of Patty Smith) was released in May 1962. Produced, directed and written by Handel, Patty is the story of a young woman seeking an abortion after becoming pregnant by one of a group of men who gang raped her. The film is a scathing indictment of the laws against abortion, the healthcare system, and the Catholic church as she attempts to find a safe, affordable, legal way to abort the unwanted pregnancy. The film mentions the legality of abortions in Scandinavia in circumstances that parallel Patty's, and ends with the statement that more than 8,000 women a year die of illegal abortions in the United States, one per hour. The film was released during the Sherri Finkbine abortion controversy of 1962. Could Patty may have been the first feature film to overtly advocate for safe, legal, affordable abortion? If so, it has added relevance as a significant historical treatment of a subject that remains controversial today. The film was produced by Leo A. Handel Productions and distributed by Topaz Film Corporation. In a 2005 conversation with AFA Director Geoff Alexander, Handel referred to Patty as his favorite among all his films.
Leo Handel had one other venture in feature film, serving as Executive Producer for the film Phantom Planet (1961, dir. William Marshall).

Carol Shade Nocella remembers working at Handel Films:

"I worked as Leo's secretary for a year between 1970-1971. It was a small office at 8730 Sunset Boulevard, West Hollywood, California 90069. The only people there were Leo, me and the receptionist, and Leo's German shepherd Duke. I also typed and mailed advertising and invoices to schools, shipped film cans, repaired the returned films, and just about everything else. The filing cabinet had a file on each of the several hundred schools that did business with us. One of my routine jobs was to type and mail advertising to about 20 schools each day, beginning with the 'A' files and ending with the "Z" files a few months later, then starting all over again with the 'A's… I remember we stocked the films in our small office storeroom. We kept a few new ones for sale and the rest were used and re-used for rentals. My guess is that 80% of the business was rental and 20% outright sales. When a rental came back, my routine was to put the film on a hand-rewinder, examine it for damage, cut out torn frames and re-splice it on a hand-splicer I remember two of our biggest sellers were Benjamin Franklin: Scientist, Statesman, Scholar, and Sage [1970] and Valley Forge: The Battle for Survival [1969].

"He made The Mexican-American: Heritage and Destiny while I was there. This film showcased Hispanic contributions to our culture, particularly in California. It was narrated by Ricardo Montalban. I remember a segment with a montage of city and street names with Spanish origins, i.e. San Francisco. The film also had a segment on Hispanic actors/entertainers. That was the part where he had me ask Ned Romero for his autograph. Ned was a regular (co-star) in a TV series at the time, I believe (a police show?)… Handel pulled me away from my typewriter to appear in that one, filming that segment on the sidewalk behind our office building. He edited the film in our own work-room, and I scavenged the out-takes of 'my film debut' off the cutting room floor. Once the film was completed and a new flyer made promoting it, there was a big push to get this advertising out to all the schools ASAP. I left when I found a better job at the Walt Disney studio in Burbank. He was unhappy, saying I was the only gal that had ever quit (he fired two while I was there). Leo was a real character. He had a deep voice with a thick Austrian accent, drove a Rolls Royce Silver Cloud." (emails to Geoff Alexander, December 3, 5, 2005. The Ned Romero series is possibly Dan August, in which he appeared as Sgt. Joe Rivera).

Personal:

Handel married Augusta Wallace, an actress, author (later known as Augusta Wallace Lyons), and social activist from Louisville Kentucky, in New York in 1942. Her father Tom Wallace was the editor of the Louisville Times. They had two sons, Tom Wallace Lyons (b.1943) and Albert "Bert" Wallace Lyons (b. 1946). After Handel's divorce from Augusta, he engaged in a relationship with actress Trula Adaline Vosburg (b. 1929) and had a daughter, today Chris Westerlund, with her in 1959. He married Susan Concannon (Wagner) on December 4 or 5, 1989. Wallace passed away in 2010, Vosburg in 1995, Concannon in 2019.

Leo Handel dissolved his company in 2004 and sold his remaining film stock to Thomas Stanton, owner of a film company specializing in academic films for the classroom. Handel passed away in Ventura, California, on September 8, 2007.


Books:

- Hollywood Looks at its Audience: A Report of Film Audience Research (1950)

- A Dog Named Duke True Stories of German Shepherds at Work with the Law (1966)

- Trooper: A German Shepherd Tells the Story of His Life -- A Life Filled with Joy and Tragedy (1998)


Thanks to Carol Shade Nocella and Chris Westerlund for contributing to Leo Handel's story.