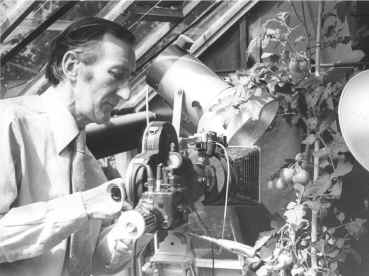 Peter Boulton filming 'Life Cycle of a Flowering Plant' "The
time-lapse camera and flash equipment was in continuous operation
in the greenhouse for several months, and the greenhouse had to be
covered over at night with tarpaulins to avoid disturbing the neighbors
with high-powered flashguns."
___ . ___
Peter Boulton's Boulton-Hawker Films Ltd. is notable for its films on science subjects. Well written, beautifully photographed, and intellectually stimulating, the Boultons' films represent some of the finest examples in the sub-genre of academic science films.As produced as a family-run enterprise, each film typically would be produced and written by son David, and exactingly photography by his father, Peter, using slow-motion, time-lapse micro photography. Additional members of the multi-dimensional (cinematography, sound, and editing) crew included son-in-law Nigel Rea, and Rosemary Cizmowska, and graphic artist (and daughter) Anne Rea.

Boulton-Hawker was originally founded in 1946 by Gilbert Hawker and Peter Boulton, who made their first film together in Cairo for the RAF ('Quiet Afternoon,' 1944). In 1956, Hawker left amicably to concentrate on sponsored commercial films, leaving Boulton to continue with his passion for educational film, specializing in science, zoology, and botany. A British company, Boulton-Hawker distributed their films in the US through Benchmark Media and the International Film Bureau. Since 1989, Boulton-Hawker has concentrated on distribution rather than film creation, and still operates from his half-timbered16th century home. The Academic Film Archive of North America hosted two a special evening dedicated to the films of Peter Boulton on September 28, 2000. Peter passed away on March 2nd, 2003. We were honored to meet him at his home on July 8, 2001. His family has written a eulogy, which we've reproduced on this page in its entirety, below the Filmography. It contains additional biographical details of Peter's life.
Select Filmography
Boulton-Hawker has made more than 100 films, the most popular of which specialized in Biology, Botany, Geography, and Insect life, and Natural History:
Arts, Crafts, and Industry
Dairy Farmer, The (1949)
Farm in East Anglia, A (1975, filmed in Suffolk)
Malting (1947)
Market Gardener, The (1949)
Market Town (filmed in Sudbury, Suffolk)
Milk (1949)
Pedigree Suffolk Sheep (1948)
Rope-Making by Hand (1946)
Story of Coco Matting, The (1947)
Botany
Climbing Plants
Dispersal of Seeds & Fruits
Flowering Plant from Seed to Seed (This was released in the US by International Film Bureau, and was an Americanized version of 'Life Cycle of a Flowering Plant')
Germination & Growth of Plants
How Plants Move
How Seeds Grow
How Seeds are Made
How Seeds are Scatterted
How Seeds Sprout (distributed in the U.S., may be the U.S. version of 'Germination & Growth of Plants')
Life Cycle of a Flowering Plant (U.K. version was entitled 'Flowering Plant from Seed to Seed')
Plant Movements (1974 Award, British Assn. for the Advancement of Science)
Plants that Climb
Process of Pollination
Seeds Grow

Biology
Amoeba: Single-Celled Organism
Five-Kingdom Classification
Fungi (1984 BAAS Award & Gold Award, New York Intl Festival)
Fungi & Man
Monera: Bacteria & Cyanobacteria
Protista: Protozoa & Algae
Simple Multicellular Animals

Geography and History
Anglo-Saxon England (1971)
Cathedral City (filmed in Norwich)
Day To Remember, A (1966)
East Anglia (1952)
Fenlands, The (1974)
Scotland: The Highlands (1969) Takes a look at the ways in which the face of the highlands has changed toward modern demands.
Scotland: The Southern Uplands and Central Lowlands (1969) A survey of the industries and agriculture of the Southern Upland And Central Lowland regions of Scotland.
Geology
Chalk
Limestone
Old Hard Rocks
Soft Rocks
Work of Ice
Work of Rivers
Work of the Sea
Insect Life
Adaptations for Survival: Insects (1978)
Insect Eaters
Insects: Adaptations for Survival
Insects: Foods and Feeding Habits
Insects Harmful to Man
Insects Helpful to Man
Lifecycle of Insects I: Incomplete Metamorphosis
Lifecycle of Insects II: Complete Metamorphosis
Social Insects
Water Insects
Natural History and Zoology
Amphibians
Animals that Gnaw and Burrow
Animals with One Foot
Bears
British Carnivores
Cat Family
Cattle
Chameleon
Deer and Antelope
Dog Family
Elephants
Found On A Farm (1958)
Horse Family
Pigs and Hippos
Rabbits and Hares
Reptiles (Parts I and II)
Rhinos
Sheep and Goats
We Grew a Frog
___ . ___

In memory of Peter Boulton (1920-2003)
(written by Peter's family)

Peter Boulton was born in Clacton on 25th October 1920, the second son of Sidney and Ellen Boulton.
His parents had met when his father, originally from Diss, was appointed Station master at Hadleigh in 1908. Ellen, a teacher, was the eldest daughter of William Cooper Emeney, who ran the Kingís Head in Hadleigh.
They lived in Church Street before moving in 1916 to Clacton-on-Sea when Sidney Boulton was appointed Station master.
In 1922, the family moved to Ilford when Peterís father was promoted to Assistant Station Master at Liverpool Street station. At Ilford Grammar School, Peter began to develop his life-long interest in photography and after leaving school, he started work at James A Sinclair & Sons, a film camera company in Whitehall.
When war broke out, Peter enlisted in the RAF as a photographer and in 1941 he was posted to Cairo to work in the Command Photographic Section. In addition to his general photographic work, he became in effect a one-man film unit for the RAF Medical Branch, travelling widely throughout eastern Africa shooting films about anti-locust and malaria projects. It was while doing this valuable work that he unfortunately caught amoebic dysentery that was to cause him considerable ill-health in his later life.
In 1939, Peterís parents returned to Hadleigh to retire and, after demobilization, Peter joined them. He then set up a film and photography business with Gilbert Hawker, a RAF colleague from his section in Cairo, and so in 1946 Boulton-Hawker Films was formed.
In 1947, Peter met Marie, who came from Kent but also had Hadleigh connections, having been evacuated here during the war. Marieís brother remembers Peter keenly driving down to Bexley in an assortment of old sports cars most weekends to have tea with Marie and her family. In 1949, Peter and Marie married in this church, when of course a brief film was made of their wedding.
For several years, Peterís new company had to undertake bread-and-butter commercial photography and sponsored films to pay the bills, but his real interest was in making educational films. Using material he had shot in Africa, he produced a number of geography teaching films and started to sell copies around the world.
In 1956 Peter and Gilbert amicably agreed to go their separate ways, and Peter concentrated on making and distributing the educational films he produced. As the company became more successful and more demanding, he was able to call on the intuitive advice and encouragement of his wife and fellow-director Marie.
Peter became particularly well known in the natural history world for his stunning filming of animals and plants using specially designed time-lapse equipment. He was proud to have won countless awards for his films both here and abroad, including twice gaining the coveted Film Award of the Year from the British Association for the Advancement of Science.
Various creatures would arrive at Boulton-Hawker Films to be filmed. On one memorable occasion Peterís secretary Rona unwittingly opened an innocuous looking brown box, only to release a small army of stick insects which swarmed round the office.
Today, 57 years later, Boulton-Hawker Films continues to be a successful and thriving company, now run by his son David.
Throughout his life, Peter played an active part in the community. He was a Hadleigh Town Councillor for many years and became particularly involved in the Councilís local history committee Ė he was passionately committed to preserving the townís heritage. He was Chairman of Hadleigh Town Council in the 1960ís and worked for several years as a local magistrate. In 1973 [?], he became a churchwarden of this church. Throughout his life he was an active member of many local organisations, including the Hadleigh Amateur Dramatic Society, the Masonic Lodge, and Grand Feoffment Trust.
Those who knew him will remember Peterís great love of books; he was well- read on a wide range of topics. However, in his younger days Peter was also an outdoor man, fond of walking and sailing, with a great sense of adventure. When his children were young, he would take them to launch his rowing boat at Toppesfield Bridge in Hadleigh. They would navigate the river as far as Stone Street, an energetic feat, which often required the boat being carried when the river was low. Once the family was pursued by a group of pigs at Stone Street who thought the dinghy was their trough!
He will be remembered as a talented and dedicated film-maker; a kind man, a good listener with a great sense of humour. He was a devoted husband to Marie, a caring father to Anne and David and doting grandfather to Clare.