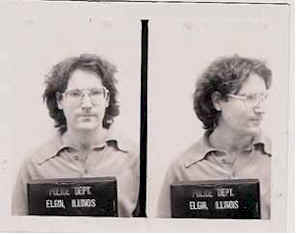 Hoffman in his darker days. See story below...*
___ . ___
In a time when many educational films about the human body consisted of didactic narration, poor graphics, and boring story content, Bruce Hoffman's intellectually stimulating and entertaining films were beautifully crafted and stand the test of time as being as interesting today as they were when originally made. Although the filmmaker's lineage at Encyclopaedia Britannica Films included his paternal grandfather Paul Hoffman (former President of Studebaker and charter member of EB's Board of Directors) and father Don (a vice-president of EB Films), Bruce Hoffman's films on the human body were exceptional by anyone's standards, as confirmed by his many awards. A funny, self-effacing man who writes as well as he produces, Hoffman wrote the following autobiography and filmography for the Academic Film Archive.
___ . ___
Autobiography
Born in 1955, Bruce Hoffman spent a vaguely Rockwellian early childhood in a small town near Chicago, a moderately Kafkaesque adolescence in a suburb of Chicago, and an ambivalently Seventies-ish collegiate life "studying" Communication Arts at the University of Wisconsin.
Following a brief but soul-enriching stint as a soda jerk pulling the night shift at a notorious chicken-wing establishment in Minneapolis, he was hired in 1980 into a sort of apprenticeship program at Encyclopaedia Britannica Educational Corporation in Chicago. He is almost certain that the fact that his father was a vice president with the company, and both his grandfather and step-grandmother were (or had been) members of the EBEC's board of directors, had nothing to do with his being brought aboard. No, he's sure it was his polite demeanor and naturally good teeth that earned him his position.
At Britannica, he worked in a variety of positions on numerous films by other producers. He worked as a gofer, camera assistant, production assistant, re-writer, editor, cameraman, prop-maker, production assistant, production assistant, production assistant, parking valet and driver, and more, before being assigned to help salvage the remains of some human biology films that had been contracted to an out-of-house producer whose self-promotional talents far outstretched his attention to mundane details of human physiology. In this role, Hoffman quickly mastered the art of the run-on sentence and moved from the city to the suburbs. It was at this time that he began to act as a producer of films. He stayed with Britannica for about five years (although during most of his last year there, he was on an extended leave of absence to travel). He then quit Britannica and moved to a suburb of Los Angeles, California. He continued to work with Britannica on a contract basis, but his primary pursuit was of the glamorous, exciting life of feature film-making. Fortunately, he has a cousin in the party-equipment rental business, who was able to rescue Bruce from his rapid descent into abject poverty once Britannica began to fold in on itself and cease production of original, curriculum-based films. Hoffman served adequately in responding to customer inquiries into chair styles and prices and linen colors.
Early in the new millennium, Hoffman got lucky one more time became the Senior Content Director with Archipelago Productions, a curriculum-based electronic publishing unit of Harcourt Brace, Inc. He is now happily married, a stay-at-home dad, and living near Monterey, CA.
Filmography
Hoffman was writer, director, primary cameraman, and editor (unless otherwise noted below) of his films. Many of them contain large amounts of animation, the visualization and execution of which were performed by artists and animators under the direction of David Alexovich.
The Digestive System (1981)
Because so much of this film was adapted from a previous edition, Hoffman took only a writing credit.
Gold Plaque at Chicago International Film Festival
Cine Golden Eagle

The Endocrine System, 2nd Ed. (1982)
Cine Golden Eagle

Skin: Its Structure and Function (1983)
Cine Golden Eagle

Blood: The Microscopic Miracle, 2nd. Ed. (1983)
Cine Golden Eagle
Selected for screening, American Film Festival

The Human Brain, 2nd Ed. (1983)
Blue Ribbon, American Film Festival
Best Medical Film, Milan Film Festival
Best Film, Rio de Janeiro Science Film Festival
Cine Golden Eagle

Grouping Living Things (1985)

Classifying Living Things (1985)
Best Instructional Film, Barcelona Film Festival
Cine Golden Eagle

Human Reproduction (1985)
Deemed Pornography in the Tennessee State Legislature

Children in Autumn, 2nd Ed. (1985)
(written by Donna Roth)

Communities and How They Work (1987)

Neighborhoods Are Different (1987)

Your Eyes, 2nd Ed. (1989)

Your Ears, 2nd Ed. (1989)

Safety on the Playground, 3rd. Ed. (1990)

Safety on the Street, 2nd Ed. (1990)

Safety in the Home, 3rd Ed. (1990)

The Estuary at Morro Bay (1994)

With the exception of the last on the list, all the above films were produced for Encyclopaedia Britannica Educational Corporation in the mid-'80s and early '90s. The Estuary production is a video made for the non-profit group Friends of the Estuary in Morro Bay. The video is shown in the Natural History Museum in Morro Bay State Park.

In addition to the above productions, Hoffman has done a variety of other media-related tasks, including directing plays and writing.
* About the photo... Hoffman says: "The story of the photo isn't really as thrilling as I'd prefer... no arrests for bad feng shui or crossing state lines with improper fashion statements. In my gofer days at EBE, I worked with one of the producers on a film about police. A criminal was needed for a booking sequence in the film, and I was the most convenient warm body. The picture was taken and used as a prop, as I recall. I nabbed it when we were done."