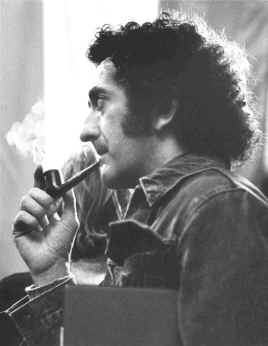 1977, photo copyright Lois Siegel
___ . ___
View Kaczender's films Marxism: the Theory that Split the World and You're No Good.
Born in Budapest on April 19, 1933, Hungarian refugee George Kaczender (pronounced KATZ en der) joined the National Film Board of Canada in 1957 as a young, experienced assistant director, where he teamed with Nicholas Balla, a producer whose parents were from Hungary as well. Challenged by a new language and culture, the filmmaker worked on more than 40 Film Board titles as editor or writer (during which time he edited cine16 favorites Nahanni and Rallye des Neiges), and in 1964, directed the first half-hour dramatic film ever for the Board, Phoebe, a brilliant portrayal of a pregnant teenager. Many of Kaczender's films treat themes of transition and crisis, in the adolescent (The Game, You're No Good --- starring Michael Sarrazin in his first role), the infant (World of Three), and the adult (Little White Crimes) worlds. Influenced by Federico Fellini, Kaczender's film world was populated with extreme camera angles, occasional forays into surrealism (Phoebe), superior acting, and exacting editing.
In World of Three, we see and hear the world through the perspective of a three year old, incomprehensive as to why instructions are being given, needing to explore, and not understanding why his attempts to please his parents (Michael Learned and Peter Donat, with their real-life son Lucas) often fail, in a project in which Kaczender spent three weeks with the family during filming. In an attempt to regulate "controversial" sex education films, the Film Board was threatened with having to register as a "foreign agent", adverse to US interests, and Kaczender's film Phoebe was temporarily withheld from U.S. distribution (eventually, in 1971, it was picked up for distribution by Bill Deneen's Learning Corporation of America. Kaczender's films on the growing pains of childhood and adolescence were not made specifically for the education market, yet became popular with educators for forceful dialogue and intelligent treatments of complex issues. As such, they are among the finest examples of affective sociodramatic educational film ever made.
George Kaczender appeared live in front of our AFA audiences on March 5, 1998 and answered questions from the audience following the showing of his films Phoebe, You're No Good, and World of Three.
George Kaczender passed away on August 24, 2016. He made a powerful contribution to North American film with a unique insight that will remain timeless.

Filmography
Kaczender directed and wrote the following films for the National Film Board of Canada:

Ballerina, 1963 28m (exceptional documentary about prima ballerina Margaret Mercier)
Phoebe, 1964 28m (winner of five international awards, and the second biggest seller in Film Board history. The version distributed in the U.S. is missing a 50 second sequence ending with a kiss, removed by the Film Board apparently at the behest of U.S. authorities for morals reasons)
City Scene, 1964 28m
You're No Good, 1965 28m
The Game, 1966 28m (winner of two awards)
The World of Three, 1966 28m (winner of two awards)
Little White Crimes, 1966 28m
Sabre and Foil, 1967 7m
To Track a Shadow, 1967 18m
Don't Let the Angels Fall, 1968 99m
Up to Standard, 1975 11m

Kaczender left the Film Board in 1969 at the behest of Deneen in order to start a production company, the International Cinemedia Center (ICC), with partners John Kemeny and Wolf Koenig. He produced and directed three academic films for LCA, using Canadian actors and crew. He left the ICC in 1972 in order to produce his second feature film, "U-Turn". Kaczender produced numerous television shows and movies for television, and was a member of the selection committee for foreign films at the Academy of Motion Picture Arts and Sciences.
His LCA films are:
Freud: The Hidden Nature in Man (1970), 29m
Marxism: The Theory that Split the World (1970), 26m
Newton: The Mind that Found the Future (1971) 27m
His feature films are:

Don't Let the Angels Fall, 1969, (Arthur Hill, Sharon Acker)
U-Turn (also called 'The Girl in Blue'), 1972, (David Selby, Maud Adams)
In Praise of Older Women, 1978, (Tom Beringer Karen Black)
The Agency, 1981, (Robert Mitchum, Valerie Perrine)
Chanel Solitaire, 1981, (Marie-France Pisier, Rutger Hauer)
Your Ticket is No Longer Valid, 1984, (Richard Harris, Jeanne Moreau)
Tomorrow's Killer, 1987
Jonathan: the Boy Nobody Wanted, 1992
Christy: A Change of Seasons, 2001
George wrote two books:
| | |
| --- | --- |
| | "An Unreasonable Notion of Desire" (2000) |
| | "Notebooks of an Incurable Romantic" (2013) |