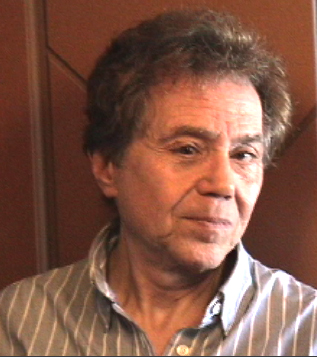 Veteran filmmaker Don Klugman was born in Chicago on Chicago 4/24/1933. In 1956 Don Klugman earned a Master's Degree in Cinema at USC and returned to Chicago, where he worked as a scriptwriter-producer at an advertising agency, a TV station, and a corporate audiovisual firm. From 1960 to 1963, he worked for Encyclopedia Britannica Films, in the old Wilmette bank building. During his tenure at EB, Warren Everote was his manager, and Milan Herzog was the production director. Don and Joseph Wedeen were among those who wrote scripts for Ralph Buchsbaum's landmark Biology series, for EB, which also included directors such as Bert Van Bork and John Walker, and cinematographer Isidore Mankofsky. Don also wrote scripts for several of EB's social studies films.
Three years later, with the biology films nearing completion, Don left Chicago for New York City to write educational scripts for McGraw-Hill and for ACI Films, owned by fellow-USC-grad Stelios Roccos. Don was not happy with the New York lifestyle and production environment. Returning to a more congenial Chicago scene, he made the three experimental/theatrical films for which he is best-known: Nightsong, I've Got This Problem and You're Putting Me On -- all recently restored with grants from the National Film Preservation Foundation.
At the same time, he joined Mel Waskin and Bill Walker at Coronet Films, a division of Esquire Inc., and, during a seven-year stay, scripted nearly a hundred educational films. In the 1970s Don left this nine-to-five job but continued to make films, on contract, for Coronet, EB, Nystrom and FilmFair. His personal favorites are Coronet's World War I and World War II series, FilmFair's American Indians film and United States Expansion - Texas and the Far Southwest for Coronet.
During the 1980s, while free-lancing for Coronet and FilmFair, Don renewed his association with Britannica's Milan Herzog -- renting space in the Los Angeles studio that Herzog had built for EB and where Chuck Finance also had his office. In Chicago, he served the re-named Encyclopedia Britannica Educational Corporation in the Consumer Skills and Guidance areas.
Don's favorite film from this time is Consumer Economics and You, which uses music, dance and fantasy to explain basic economic principles. He fondly remembers the 'Mission Third Planet' series in which a spaceman and a low-tech robot introduce children to life on earth.
As educational AV has declined, Don's work has transitioned to business education and corporate multimedia. Today, he writes and directs seminars, exhibits, sales training and business theatre, creating musical/dramatic/multimedia expositions for Duracell, Daifuku, General Motors and others. Recently, he joined the faculty of Columbia College Chicago. Teaching filmmaking and communication, Don Klugman continues to follow the path he entered at USC a half-century ago.
Filmography
DON KLUGMAN 16MM EDUCATIONAL FILMS (NO VIDEOS/NO FILMSTRIPS)
SCRIPTED (S) PRODUCED (P) CAMERA (C)

FOR EB:
Adaptive Radiation: the Mollusks (S)
Bacteria (S)

Consumer Economics Series:
Consumer Economics and You (SP)
Build Your Economic Power (SP)
Play the Shopping Game (SP)

Distribution of Plants and Animals (S)
Electrons at Work (S)
Evidence for Molecules and Atoms (S)
The First Many-Celled Animals: Sponges (S)
Flatworms: Platyhelminthes (S)
The Jointed-legged Animals: Arthropods (S)
The Language of Maps (S)
Meiosis: Sex Cell Formation (S)
Mitosis (S)
Origin of Land Plants: Liverworts and Mosses (S)
Parisitism: Parisitic Flatworms (S)
Plankton and the Open Sea (S)
Segmentation: The Annelid Worms (S)
Simple Plants: the Algae (S)
Stinging-celled Animals: Coelenterates (S)
The Temperate Deciduous Forest (S)
The Tropical Rain Forest (S)
What is a Mammal (S)


FOR CORONET:
America, My Country (S)

Basic Job Skills Series:
Handling Daily Problems (SP)
Getting Along with the Boss (S)
Dealing With Customers (S)

The Birth of Puppies (S)
Brazil: People of the Frontier (SP)
Build Your Vocabulary (S)
Building Better Sentences (S)
Care of Hair and Nails (SP)

Communications Skills Series:
The Sender (SP)
The Receiver (SP)
The Message (SP)

Consumer Skills Series:
Budgeting Your Money (SP)
Buying on Credit (SP)
Buying for Immediate Use (S)
Buying for Long Term Use (S)
Buying Services (S)
Saving and Investing (S)

Darwin and the Theory of Natural Selection (S)
Echinoderms and Mollusks (S)
The English Language: Patterns of Usage (S)
Filing Procedures in Business (S)
Folksongs of the Western Movement (S)
Folksongs of Western Settlement (S)

Fun With Words Series:
Words that Name and Do (S)
Words that Add Meaning (S)
>From Words to Sentences (S)
>From Sentences to Paragraphs (S)

Genetics: Chromosomes and Genes (S)
Geography of South America: Five Northern Countries (SC)
How Nations Work Together (S)
Literature Appreciation: Analyzing Characters (S)
The Liverwort: Alternation of Generations (S)

Midwest Literature Series:
The City Background (S)
The Town Background (S)
The Farm Background (S)

Mission Third Planet Series:
Creatures of the Land (SP)
Creatures of the Sea (SP)
Green Grow the Plants (SP)

Mosses, Liverworts and Ferns (S)

The Nature of Life Series:
Energy and Living Things (S)
The Living Cell (S)
Respiration in Animals (S)

Photosynthesis (S)
Plants Live Through the Winter (S)
Poetry for Beginners (S)

Typing Skills Series:
Daily Job Techniques (S)
Building Speed (S)

United States Expansion Series :
NOTE: THIS NAME WAS USED FOR AN EARLIER SERIES. THIS IS NOT JUST A REVISION
BUT A RE-MAKE PRODUCTION-NUMBERED IN THE 5700 RANGE.
Florida and the Southeast (SPC)
The Northwest Territory (SPC)
Louisiana (SPC)
California and the Southwest (SPC)
Oregon (SPC)
California (SPC)
Texas (SPC)
Growth of a Nation (SPC)

Viruses: Threshold of Life (S)

World War I Series:
NOTE: THIS NAME WAS USED FOR AN EARLIER SERIES. THIS IS NOT JUST A REVISION
BUT A RE-MAKE NUMBERED IN THE 4200 RANGE.
Background Tensions 1870-1914 (SPC)
Fighting on Two Fronts 1914-1918 (SPC)
The Politics of Peacemaking (SPC)

World War II Series:
NOTE: THIS NAME WAS USED FOR AN EARLIER SERIES. THIS IS NOT JUST A REVISION
BUT A RE-MAKE NUMBERED IN THE 4400 RANGE.
A Fragile Peace 1918-1929 (SPC)
The Roots of Aggression 1929-1939 (SPC)
The Inevitable War 1939-1940 (SPC)
The Expanding Conflict 1940-1941 (SPC)
A World at War 1942-1945 (SPC)

Worms: Flat, Round and Segmented (S)
Your Body Grows (S)
Your Body Maintains and Repairs Itself (S)


FOR FILMFAIR
The Mysterious Message: Penmanship (SP)
American Indians: Yesterday and Today (SPC)
Time Out: Graffiti (SP)
A Special Friendship: Pet Care (SPC)

FOR MCGRAW-HILL
Geometry: The Nature of Proof (S)
Geometry: Triangles (S)