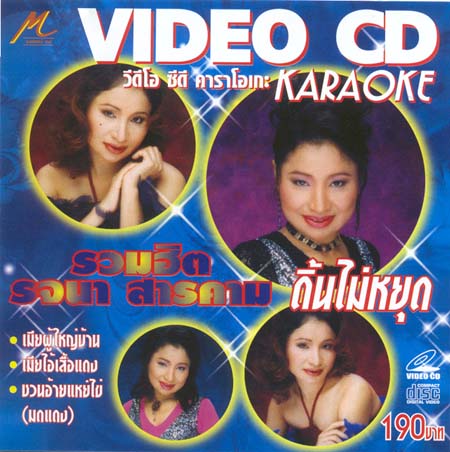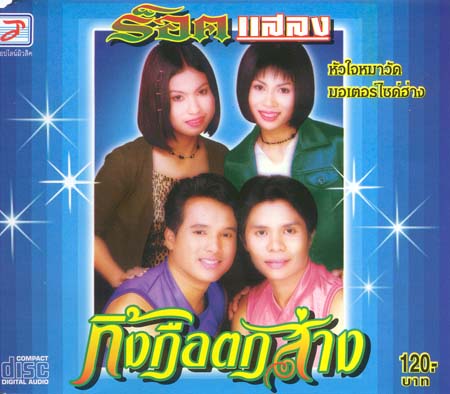 Rojaná Sarakham Rock Slaang (Diamond Studio VCD-TL 005)
Morlam Music: Geoff Alexander's Quick Buyer's Guide to Starting a Basic Collection
OK, you've realized you like morlam, but with hundreds of VCDs available, where do you start your collection? I'll give you the benefit of my opinion on this page but first, here are a few of my prejudices:
I love the sound of the phin (Isaan stringed instrument) and khaen (multi-reed mouth organ), so if they're real (as opposed to synthesized), I'll tend to lean toward that sound.
Since morlam is "upcountry" music, I like upcountry settings. There's something to be said for authenticity.
The best morlam is played by small groups with tight bass lines. "Big band" morlam wears thin, and too many instruments (especially horns) take away from the power of the music.
When you're experimenting, it's worth spending your money on morlam VCDs made by "Master Disc". Some of the best sounds I've heard are on that label.
Stay away from Grammy VCDs, which tend toward insipid Thai pop.
Several of the singers mentioned below are best known for lukthung, rather than morlam, but occasionally venture into morlam. They are listed here, because their CDs may be offered to you by Thai music stores
If you're not in Thailand, morlam VCDs can be purchased from several internet sources. Search on "morlam", and you'll run into two or three.
I'm going to recommend a few VCDs to start your collection, and from that point on, you'll be your own expert… have fun! I have provided manufacturer names and catalogue numbers, and loose title translations, when possible. When not, I've listed the title as "Untranslated Title", along with the catalogue data. I'm dividing the list into three categories: Best, Mid-Range, and Not Recommended.
Best: Start with Jintara
Jintara Poonlarb. The basic morlam collection starts with one or two VCDs by Jintara, who has an exceptional voice, and camera-sense. Not all of her VCDs are excellent all the way through, and some have way too much "luk kreung", or schmaltzy Thai pop. Nevertheless, there are at least two great songs on every VCD she's done. I'd recommend starting with the following three:
| | |
| --- | --- |
| | Jintara VCD 5 (Master Tape Studio G-844063). Although this VCD has very poor resolution (it was originally recorded on VHS, I think), it's charming, and contains "Tang Mo Jintara", a can't miss. |
| | |
| --- | --- |
| | Jintara VCD 7 (Master Tape Studio G-0845222). Her greatest song, "Jintara Taam Kao" is one this one, and this is the one Jintara tune no one should miss. The cartooney "Gord Morn Karng" is here as well. |
| | |
| --- | --- |
| | Jintara Poonlarb – Concert: 'Sao Sieng Pinh' (Master Tape G- 0846078). This is a live concert from her 2002-2003 touring show, with great hits like "Tang Mo Jintara" and "string" hits like "Fan Ja". Her voice is a bit strained from the strenuous touring, but her stage presence is wonderful. Included is the de rigueur comedy sketch; I recommend fast-forwarding through it. |
Banyen Rakkaen. The words pageantry and majesty are two that come to mind when discussing Banyen Rakkaen. Although getting on in years, she maintains a grace that comes off very well on VCD. Her music is wonderful, and dancers well costumed and choreographed. Any collection of morlam should have at least one Banyen title. Two I recommend are:
| | |
| --- | --- |
| | Untranslated Title (Diamond Studio VCD-TL 007) |
| | |
| --- | --- |
| | "Maemai Morlam" (Media Music Group Star Karaoke 2396/43) |
Doakfah Phetpuphan With her pixie haircut, Doakfah looks like an older, slightly larger version of Jintara. Doakfah's voice has a wonderful, biting edge to it, and her phrasing is impeccable. Her staging tends toward the formulaic, generally accompanied by six dancers who sway rather than gyrate, dressed (as is Doakfah) in modern Thai-style clothes with traditional trappings such as arm bracelets, tiaras, and sashes. While appearing taller than her dancers, Doakfah is actually perched on radically-tall high-heels, while her dancers are barefoot, or heelless. Since much of her sequences are shot on grassy areas, Doakfah's heels limit her severely in terms of leg movement, which probably accounts for the in-place dancing that is a hallmark of her video performances. While the following two VCDs are recommended, I caution you to avoid "Mor-Lum-Break-Taek, Medley 1" (Master Disc MD VCD 073), in which 11 of 12 very nice songs are unfortunately truncated prematurely, a frustrating and abrupt ending to songs featuring the smoothest of morlam performers. Recommended are:
| | |
| --- | --- |
| | "Song kao jao bow ror" (Master DiscVCD 006) A fine introductory VCD, with an exceptional "gern" section, followed by a "lam" sequence with wonderful voice inflections, on song #12, . "Phoe phid wan". |
| | Somjit Bor Thong & Doakfah Phetpuphan "Mor Lum Ku Hit 2" (Master Disc MD VCD 019) has some nice tunes, sung alternately by Somjit and Doakfah. |
Pra San Veang Sima "Lumsing Poketong" (Master Disc VCD 008) This is authentic country morlam that occurs as part of a stage show, with the same dancers in Tep Porn's VCD (below), and exceptional musicians. Prasan's got a fine voice, all songs are good, and a couple (#1 and #7) have exceptional "gern" and "lam" sections.
Rojaná Sarakham is a powerful singer with a great band, featuring lots of combo organ, and a hot troupe of dancers. Her VCD on Master Tape has no number on the cover, but has GRII-VCD 013890 etched on the VCD itself. The cover is blue, with four encircled pictures of her (see photo above).
Rock-Kuk-Kuk plays "morlam sing" a combination or morlam & rock, and they're very good. Their 4th VCD, "Mhow-Lum-Sao" (Master Disc VCD 052) is highly recommended.
Rock Slaang's "Motocy Hang" should be in every luktung prayuk (luktung isaan) collection. It's here, with several other exceptional tunes: "Rock Slaang" (Diamond Studio VCD-TL 005)
Thepporn Petchubol is a good writer and adequate performer. His "Lumsing Pok Tong 2" (Master Disc MD-VCD 009) is very good morlam, set in the country.
Fun Fair Concert (2 VCDs, Grammy G-08646086) This is a wonderful concert tour featuring string-lukthung star Thongchai 'Bird' McIntyre, with guest stars Jintara Poonlarb, Nat Myria and Kat English. Recorded at Khon Kaen & Nakorn-Ratchisima (Khorat). There are two other Fun Fair VCDs in the set, and we understand this is the best.
Completed your basic collection? Here are some mid-range performances, not the best, but certainly not the worst. There are some caveats...
Ankená Khunchai is an older singer with an outstanding voice. She teams with male singer Rungfah Khulachai on "Sanae Isaan 1" (SRV 006), which showcases her voice beautifully, but Rungfah, alas, is not in her class as a singer. Her voice seems to have lost the dynamic range with "Top Hit" (RSiam RS VCD 00275), in this "soft" morlam/lukthung effort.
Job and Joé are two good female singers, appearing both separately, and together (Nopporn NP-VCD 132)
Mike Pirimporn is a very big star who rarely sings morlam, staying comfortably within the lukthung framework. On "Ruam Hit Buntug Khon Su Cheewit" (Grammy Karaoke G-0844298), you can hear and see the exceptional "Taang Bieng Yah Sieng Dern", which tells the poignant story of upcountry people exploited by entrepreneurs who sell their labor to entities in foreign countries.
Pimpa Pornsiri is another younger singer. Her "Eye Nalika" (Noppong International VCD 026559) has several good songs.
Pornsak Songseang's "Sao Jan Khang Khob" was considered by several aficionados to be the first true morlam song. His VCD (JKC Marketing Co. Ltd. VCD 1-1-6) contains several good songs.
Siriporn Ampaipong is a well-known singer, of both morlam and lukthung. Her morlam is generally serviceable, but her voice tends to be on the reedy side, with minimal dynamic range. "#1" (PGM VCD-691) features Siriporn in concert, with under-recorded vocals, but with an outstanding band and dancers. "Mor lum baan don 2" (Grammy Karaoke G 0844220) is very pedestrian morlam. There is one nice song on "Loogthung ban don 3" (Grammy Karaoke G 0844149) but overall, not recommended.
Yui Yaatyer's fine VCD ,"Yui Yaatyer" (Four's FS-VCD-6058) features traditional musicians dressed in costumes, rock instrumentalists dressed in modern rock dress, and dancers hot urban get-up. Driven heavily by phin and organ, a shame that her voice is under-recorded, and she's a bit weak on high-end vocals.
Not recommended…
Chalermpol Malakam is recommended by many Thais, but this pop singer, from what I've seen on (EVS EVD-071), has a poor vocal range, sometimes off-key, and a glitzy stage show, punctuated by boring visuals.
Nok Noi Ulaiporn is an older singer who fields one of the largest stage shows in Thailand. Although roughly the same age as Banyen, I don't feel she emotes as well, and her voice isn't as nice as Banyen's. Neither "Live concert in Udon Thani" (Diamond Studio VCD-TL 024), nor (Diamond Studio VCD-TL 159) were particularly impressive.
Sayan Sunya, a lukthung singer, tried his hand at morlam with "Look Thoey" (Four's FS VCD 7002). Don't be fooled by the khaen pictured on the cover, this one isn't recommended.
Tai Orathai is the newest lukthung star, but she doesn't have much of an edge to her voice. Grammy G-0846027 is not recommended.

For more on Thai culture, visit www.thaioasis.com