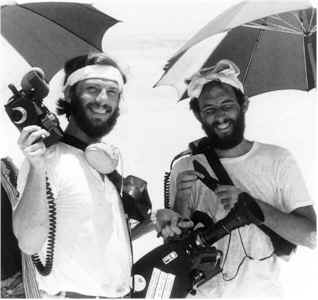 Paul Saltzman (L) and cameraman Fred Harris in
Ras Nungwi, Zanzibar, filming 'Slima the Dhowmaker' (1978)
___ . ___
Canadian director/producer Paul Saltzman's films are so good that it leaves the viewer wondering --- in a world in which everyone seems to have gotten his or her 15 minutes of fame --- how he or she could possibly have missed his films along the way. Seeing a Paul Saltzman film for the first time (ours was "Lee's Parasol," about a Thai girl learning the craft of painting stunningly beautiful umbrellas) sent us running for the film encyclopedia bookshelf, but to no avail: like many other exceptional filmmakers of the 16mm tradition, he's not to be found there. Yet as we began seeing more of the 26 films in his 'World Cultures and Youth' series, we became more convinced that Paul Saltzman was a master filmmaker, and an exceptional documenter of ethnic tradition. Purists maintain that a true "ethnographic" film cannot be fictional in nature, yet Saltzman's films contain much of what great ethnographic film is all about: processes began and completed, in situ cinematography, and utilization of non-actors.
From 1976 through 1981, Saltzman traveled to many developing nations to document native art forms transitioning from one generation to another, his point of view being that of the adolescent learning the craft from an older member of society, stumbling through the initial stages of creativity to finally produce a work of art guaranteeing the continuation of the craft for another generation. Saltzman unveils art forms with which we're not familiar: dhowmaking (shipbuilding) from Zanzibar, serpentine carving from Nunavut, parasol painting from Thailand. His colors are always breathtaking, the camerawork, editing, and writing are spectacular. Perhaps the most wonderful element to these films is how much we as viewers learn about how intricate many of these arts and crafts really are.
Paul Saltzman made his first three films on a budget of $5000 each, and these were eventually seen by Sheldon Sachs at Coronet who bought distribution rights and funded twenty three more films, keeping Saltzman busy through 1983 on the 'World Cultures and Youth' (known in Canada as 'Spread Your Wings') series.
Saltzman will, we believe, be better known as a photographer than a filmmaker, due to a fortuitous meeting, which he describes on his website, www.thebeatlesinindia.com :
"In December 1967, 23 year-old Paul Saltzman traveled to India in search of himself. To his great surprise, he found the Beatles in India. Paul spent a magical week at the Maharishi Mahesh Yogi's ashram. He learned meditation and hung out with John, Paul, George and Ringo. Thirty years later, he found the photos he'd shot and put away in a cardboard box." The Beatles in India, a series of books of photographs, is the result, and Paul Saltzman now tours the world, discussing those times, and the collection.

Please see Paul Saltzman's filmography for more details of the film and television work of this important filmmaker.