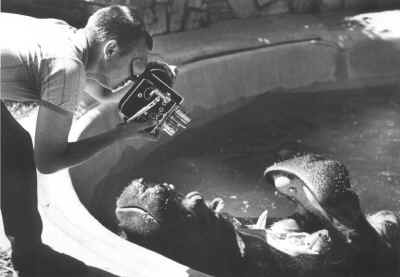 Tom Smith and friends, from 'Looking at Mammals' (photo by Isidore Mankofsky)
View Tom Smith's American Indian Speaks, Chess, Farm Family in Autumn, Farm Family in Spring, Farm Family in Summer, Farm Family in Winter, Food from the Sun, Introduction to Holography, Investigating Hibernation: the Golden: the Mantled Ground Squirrel, Kentucky Pioneers, Learning About Light, Learning About Sound, Midwest - Heartland of the Nation, Newspaper Story, The Solar System, and Venereal Disease: The Hidden Epidemic
Read Tom Smith's reminiscences on working with producer Milan Herzog

THOMAS G. SMITH - Producer/Director/Writer

Thomas G. Smith was born in Canton, Illinois in 1938. When he was seven-years-old his family moved to France where his father, a farm implement designer, worked on mechanizing agriculture in Post War Europe. For five years, Tom attended French and Belgian public schools (1946-1951). His parents gave him a Kodak, Baby Brownie Special for his 10th birthday. At first he developed his own film but learned he got better results when the camera store did it. Photos he took of Post War Europe (1948) were exhibited in 2011 show. After returning to the U.S. Tom went to high school in Stockton, California, then entered Northwestern University (1956-1960). While a college freshman he worked as an announcer at WEAW, a Chicago area AM and FM radio station. Influenced by a film course he took under Professor Jack Ellis, he fell in love with making movies and quit radio. Foster Street, a slice-of-life look at Chicago, was filmed in 1959, and was one of his early student films. He soon went to work for a Chicago industrial film company, Gilbert Altschul Productions.
After graduating from Northwestern University (1960), Tom and his wife Elaine moved to Paris where he entered the Institute for Higher Studies of Film – IDHEC. While in Paris he became friends with Milan Herzog who was producing 'Je Parle Français,' a 120-film French language film series for Encyclopaedia Britannica Films (EBF). While supported by a Fulbright grant and working part time as an assistant editor for Herzog, Tom studied film at IDHEC till 1961, when he was called for military service. He and Elaine returned to the U.S. and from 1962 to 1965, he served as an officer in the U. S. Air Force. One highlight of Tom's military career was when he represented the Air Force in the Armed Forces Chess tournament. Despite his qualifying wins, he found he was in over his head and lost to a Marine Colonel. See Tom's short, stop motion film Chess made while still in the Air Force, to commemorate his trouncing by the Colonel.
Leaving the Air Force in 1965, Tom rejoined Herzog and EBF, in Chicago. He started as a writer but within a year he was promoted to producer/director and made his first academic film Food From the Sun (1966). This was followed by a succession of educational films. In 1969, he moved to California and joined EBF's talented west coast unit. When this unit closed four years later, Smith worked free-lance for EBF, BFA (CBS's educational film company) and PBS where he directed a series of child development films. During his 15 years in 16mm filmmaking Tom wrote, produced and directed over 50 films.
One of Tom's last films, made under contract for EBF, was The Solar System (1977). The film was an imaginary voyage outward from our Sun, visiting each planet in our Solar System while legendary actor, Richard Basehart narrated. Photography required optical tricks, a decade before digital technology. When it was done, the film won a Hugo at the 1978 Chicago International Film Festival and several other educational film awards. Its success earned Tom a good reputation in visual effects.
In 1979, George Lucas hired Tom to run his visual effects unit, Industrial Light and Magic. This ended Tom's career as an academic filmmaker but opened new doors in feature films. While at ILM he oversaw the visual effects for many successful films including: "Raiders of the Lost Ark," "E.T.," "Return of the Jedi," "Poltergeist," two Star Trek films and many others. In 1985 Lucas asked Tom to produce his ABC two-hour movie of the week, "The Ewok Adventure" (1984). The following year Tom produced a second Ewok special for ABC, "The Ewoks: Battle for Endor." (1985) Both films are still sold on DVD.
Following his work on the Lucas, Coppola and Disney production of "Captain EO" (1986), starring Michael Jackson, Tom joined Disney as a film producer. He specialized in films requiring visual effects. His first successful production "Honey, I Shrunk the Kids" (1989) won him a British Academy Award (BAFTA). Tom soon became deeply involved in Disney's 3-D theme park films. In 1990, he produced Jim Henson's "MuppetVision 3-D." This was Henson's last production. Sadly, he died unexpectedly as the film was nearing its end. The same year as the Muppet film, Tom directed a one-hour prime-time ABC film for children called. "Ralph S. Mouse" (1990), starring Ray Walston and Karen Black.
In 1994, Tom produced the Disney theme park attraction, "Honey, I Shrunk the Audience" (1994). With Randal Kleiser as director, this 3-D film included many groundbreaking in-theater effects including such things as mice running off the 3-D screen followed by audience ankle ticklers, sweeping through the theater.
Tom left Disney to go freelance in 1995 and continued to work both as a film producer and producer of visual effects; four of his films were for the Jim Henson Company with Jim's son Brian directing. In 2001-2002 he produced the visual effects for Ted Turner's epic Civil War film, "Gods and Generals" (2003) and served as the second unit director. Ron Maxwell produced and directed. This was Tom's last feature film. He then returned to documentary films with his production "Spoon River Anthology," a 50-minute academic film dealing with the poetry of Edgar Lee Masters. The anthology's poems describe 19th century life in Petersburg, Illinois, a small town not far from where Tom was born.
Smith has written several books, his best selling one is the Ballantine/Del Ray book, Industrial Light and Magic – the Art of Special Effects. Tom continues to write, is an avid still photographer and lectures at universities. In 2012 he was named, "Scholar At Large" for Western Illinois University.
For more information about his feature film credits see Tom's listing on the Internet Movie Data Base (IMDB):

Here are some of Tom's most significant works as producer/director on short films:

For Encyclopaedia Britannica Films:
Life Story of the Ladybird Beetle (1965)
The Fish In A Changing Environment (1965)
Farm Family in Autumn (1965/66)
Farm Family in Spring (1965/66)
Farm Family in Summer (1965/66)
Farm Family in Winter (1965/66)
Discovering The Forest (1966)
Food from the Sun (1966)
Kentucky Pioneers (1967)
Looking at Mammals (1967)
Midwest - Heartland of the Nation (1968)
Lemonade Stand (1970)
Introduction to Holography (1971)
Noise - Polluting The Environment (1971)
Standing Waves And The Principle Of Superposition (1971, prod. Tom Smith, dir. Ron Sorri)
Investigating Hibernation: the Golden: the Mantled Ground Squirrel (1972)
Newspaper Story (1972)
Introduction to Lasers (1973)
Venereal Disease: The Hidden Epidemic (1973)
American Indian Speaks, The (1974)
Learning About Heat (1974)
Pandas: a Gift from China (1974)
Learning About Light (1975)
Learning About Nuclear Energy (1975)
Learning About Sound (1975)
Learning About Magnetism (1976)
Reflections - A Japanese Folktale (1976)
Golden Lizard: A Folktale from Mexico (1977)
Solar System, The (2nd Ed.) (1977)
Universe, The: Beyond the Solar System (1978)

For BFA (CBS educational division):
Spoon River Anthology (1976)

For PBS:
The Growing Years (1977/78)- a series of half hour films on child development. I directed five of them, including Aspects of Socialization.
For KOCE-TV:
Six films for KOCE-TV's, Coast Community College district. They were part of McGraw Hill's series, "The Growing Years." One of these was Aspects of Socialization. Smith writes: "KOCE-TV later went into bankruptcy, was on the market for sale and was eventually retrieved by the community. I heard the 16mm masters and even the video masters were destroyed during the time when they were bankrupt. View Aspects of Socialization.

For Churchill Films:
The Energy Series (1978/80) - a series of 20 minute films dealing with our energy crisis. I directed three of them.
Ralph S. Mouse (1990) An ABC prime time children's broadcast (nominated for Emmy as director of a prime time children's show).
Letter from Tom Smith to AFA director Geoff Alexander, discussing his early days at EB Films (July 12, 2006)
Hi Geoff,

"Food From the Sun" (1965) was my second film at EBF, the first one where I shot the footage. I was 26-years-old at the time. My first film was "Life Cycle of the Ladybird Beetle" for which we used a lot of footage shot in Japan and Izzy shot some more footage for me in California but I wasn't even there when he did it and only dealt with him by phone. But "Food" was written and shot by me. At the same time I was finishing a personal experimental stop motion film "Chess" which I had begun while in the Air Force. For the "Chess" movie, I got a bunch of Chicago musicians together and had them improvise as they saw the film projected. I rented a piano which they "prepared" wedging paper, foil and stuff between the strings. At one point the pianist bounced a ball over the strings. As I recall, there were about six musicians. We did several takes. It worked so well I used this same group for the EBF "Food" film. I'm sorry I don't remember their names, this was 40 years ago, they got no film credit nor did we ever work together again. It was all done in a few hours one evening in the empty film studio.

I was hired by Milan Herzog to be a writer. Until I made "Food" no one considered me as a director/writer. Since everyone was busy making other films, when I finished the script, I just started making it on my own. Milan saw some of the dailies and said he'd keep providing film and processing and I could go on so long as I didn't hire a crew. I recall that Bert Van Bork wouldn't let me use a company 16mm Arriflex. He doubted I could handle it. He had no authority to stop me 'cause he wasn't my boss but as you know he has a large presence so when he commanded me (in his German accent) to keep my hands off the camera, I left it alone. I never knew if he was protecting the equipment or trying to keep down the competition. So I bought a used 16mm reflex Bolex and shot the film with that camera using 100 foot rolls. (More on that camera below.) The finished film was a surprise to management some hated the music but Charles Benton particularly enjoyed it. After that movie, I was considered a producer/director and the company provided me with an Arri to use and even a cameraman and crew when I needed one. No one announced that I was a "producer/director" but I told Sis Johnson, the office manager, to put "producer" on my company business cards and she did it without asking anyone if that was really my job title. I suppose they didn't want to make it official for fear that I'd ask for a pay raise from my $130 a week. I didn't ask for more money, I was just happy anyone would pay me to make movies.

So that's the story behind "Food from the Sun," my first original film at EBF. I kept that Bolex and later, even when I shot with an Arri or Éclair camera, I always had the old Bolex as a back-up and used it sometimes for quick grab-shots or as insurance in case the electric camera malfunctioned. When I joined Lucas in 1980, I still had the camera but hadn't used it for years and saw no use for it now that I was running ILM. I put a notice on the ILM bulletin board describing the camera and offering it for sale. It was all packed in a nice silver case and I think I was asking $650 for it with its three lenses. Steven Spielberg was making "Raiders of the Lost Arc" and came frequently to ILM to see our visual effects work for this film. He saw the ad and asked to see my camera. I showed it to him and it almost brought tears to his eyes. He held it like it was some kind of rare treasure and said this was exactly like his first camera, which he had since gotten rid of. He turned to his assistant and told her to write me a check. He walked out the door that day with a smile on his face and my old Bolex. I would not be surprised if decades from now it will be discovered in his storehouse and declared that it was his first camera.

Cheers, Tom