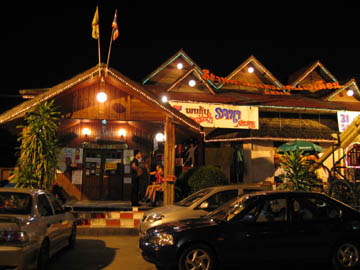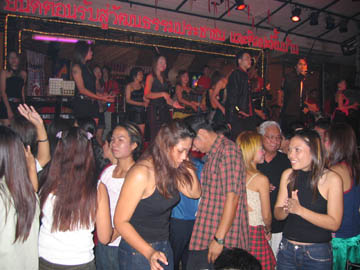 Tawan Daeng ('red sun' in Isaan dialect) is a red hot Bangkok club that features live morlam music seven nights a week. Getting there's a bit of a challenge, but well worth it. The staff and patrons are incredibly friendly and hospitable to farang (foreigners), and are honored that you're visiting, for a taste of Isaan culture. The club is owned by an Isaan group, including Niwat "Mo" Luanthaisong, my gracious host for one evening. Tawan Daeng is one of the finest experiences in Bangkok, and shouldn't be missed. Check out more pix below...
Address & directions: 484 Pattanakarn Road, Bangkok 10250. If you're near SkyTrain/BTS, a good way to get there is to take the Sukhumvit line south to Phrom Phong, then a taxi (approx. 55 baht, on the meter) to the club. At the bottom of this page, there is a map in Thai that you can print and give to your cab driver. Tawan Daeng is in the middle of the map (it's a large file, to account for the small Thai script... give it a few seconds to load...)
The music: Tawan Daeng has an outstanding group of in-house musicians, dancers, and singers, who play morlam, morlam sing, and a bit of lukthung. Guest performers appear quite regularly, and include Jintara Poonlarb, who I caught there one night.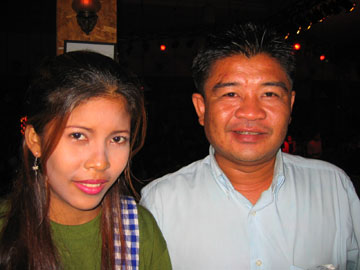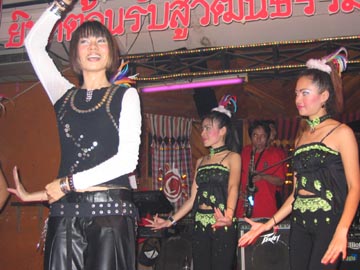 Na and Mo Jintara at Tawan Daeng, October 10, 2003
The ambiance: Food is available, and beer is served Isaan style, over ice. When you order a beer, it will be accompanied by a bucket of ice. Your friendly server will pour your beer, and will attentively add ice constantly to keep your beer cold and refreshing. It's delightful, so do it their way, and keep your experience Isaan! Special note for men: when you go to the men's room, expect to get a neck and back massage by the attendant while you're standing at the urinal, peeing! This is hospitality, not a pickup. Afterward, you'll get a warm towel for cleanup. I usually tip a few baht to show the good manner.
The crowd: Of the 300 or so people on any given night, a few will be farang, but most will be Isaan. There are gay Isaan people (and ladyboys) there too, and there is no discrimination, everyone is welcome. Enthusiastic Isaan people will encourage you to get up and dance, Isaan style, but will not be offended if you say no.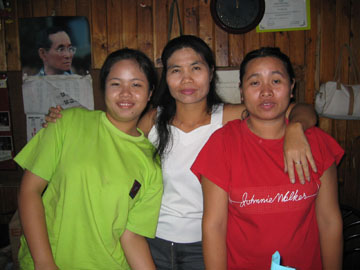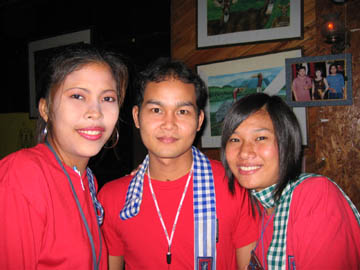 Some members of the friendly Tawan Daeng staff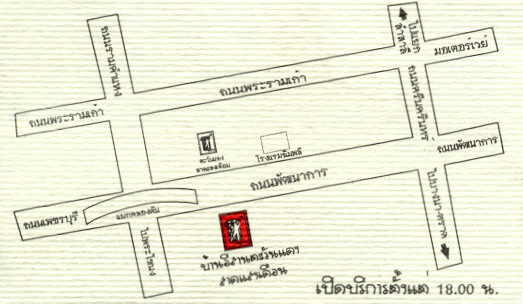 a map to give to your taxi-meter driver...
For more on Thai culture, visit www.thaioasis.com