Please note: the CinemaStore is not directly affiliated with the Academic Film Archive of North America. Proceeds from the CinemaStore assist in maintaining and repairing equipment used by the AFA, and also are used to acquire films shown at film events. These films are sold for personal use only, with no rights of any kind granted. Scroll down this page for a list of available films.
___ . ___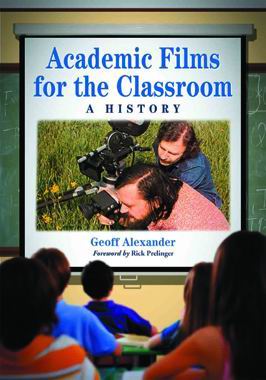 Want to know more about the history of the classroom educational film movement? Read Geoff Alexander's new book.
___ . ___
Choose from the following categories; click on: Books | Feature Films | Disney | Animation | Films on Death |50s/60s/70s Lifestyle/Health/Camp/Kitsch | Industrial/Safety |Social Documentaries | Judaica | Women's Films | Sports/Outdoors | Science/Nature | Ethno/Anthro/Sociology | Native American | History/Biography | Literature/Drama | Arts, Crafts, Dance, & Music | Miscellaneous Shorts, non-animated | Specially-priced Packages! | New Category: Home Movies
___ . ___
We sell 16mm films, not videos! 16 millimeter films are rapidly passing from the American scene, are already extremely rare, but affordable enough that, unlike other art forms, they are still financially accessible to beginning collectors. 16mm educational and documentary titles are no longer available in film format, and were originally sold for prices ranging from approximately $400 - $900; most titles are no longer in distribution, even in video format. We generally have only one copy of each title, and a brief description accompanies each film. Some of the films have been shown at ciné16 events, and have extensive filmnotes, so we encourage you to visit our Chronology of Shows, and search on the title. Proceeds from film sales are used to buy other films for inclusion in ciné16 programs and to repair our projectors. Due to the large numbers of inexpensive films on the list, minimum film order is $15.
Now the disclaimers: these films are for sale to private collectors only, no commercial use intended. You may not show them in a commercial venue (if you want to charge, contact the distributor for licensing.) It is illegal to make videotapes of these films, and, in fact, we encourage people wanting videos to contact appropriate distributors and order from them, which will provide royalties for the filmmakers.
To order films from the list below, contact geoff@afana.org and indicate the films you want. We'll email back to you with availability and price (California residents must add 9.25% tax). Then, return an email to us indicating which films you'll be purchasing, and that a money order is in the mail. Films are sold on a first-come basis; we urge you to send your money order as quickly as possible after you've confirmed you will buy; over 50% of the people who have sent us buying confirmations do not follow through with their order, which is the normal course of business on the Internet, but dictate that we cannot hold films. We like everyone, but no exceptions to this policy. If a particular film has been sold, we will refund your money ASAP. Films are in good (several splices) to excellent shape, unless noted.
Special note to overseas customers: due to the additional work necessary to prepare customs documents, the minimum order for overseas shipments is $100. All orders overseas must be sent to a valid Federal Express account in that country. For smaller orders, we recommend that you ship instead to a friend in the States, who could then ship to you.
Keycodes: n/t = no main title; c = color; b = black & white; turning = color has started shifting to magenta, red = color has shifted to red; core = film will be shipped on a core, rather than a reel; NFBC = produced by National Film Board of Canada (we do not have cans for NFBC films, sorry). For a synopsis of NFBC films, visit the NFBC website at: http://cmm.onf.ca/E/recherche/index.epl?session=reset
Timecodes: 2400 = one hour, 1200 = half-hour, 800 = twenty minutes, 400 = ten minutes. All times are approximate.
___ . ___
Books

The 1994 ETAC Guide to educational film is the best and most comprehensive we've seen, with over film 12,000 titles, with a one or two sentence description of each. Out-of-print (and never to be reprinted) masterpiece: 627 pages, paperback, $25.
Craft Films: an Index of International Films on Crafts. Printed in 1979, contains descriptions, dates, running times, and directors of over 900 art and craft films. Invaluable resource. 156 pages, hardbound, $30
Reel Revolution, by Neil Hurley. (175-page paperback on Chaplin, Eisenstein, etc. treatment of liberation themes) $5


Feature Films

Happy New Year (witty and twisted classic by Claude Lelouch, in English) 3600 c $150
Tiger Fangs (extremely rare print of 1943 film starring famed animal expert Frank Buck and Duncan "Zorro" Renaldo. In Malaysia, they encounter tigers, Japanese and German war intrigue) 2400 b&w, vinegar $100

Animation

Brier Rose: the Sleeping Beauty color 400 $15
Cinderella (Asahi/Coronet) 400 c $20
Goliath II (a Technicolor cartoon about an elephant only five inches tall, whose parents are ashamed of him until he rescues the stampeding herd from an attacking mouse) 800 c $50
Hansel & Gretel color 800 $15
Just So Stories (The Elephant's Child) 800 c $25
Little Red Riding Hood 800 c $15
Littlest Angel, The (classic 1950 Coronet film) 800 red $10
Magic Pony (Asahi/Coronet) 800 c $20
Pied Piper (fine Technicolor print of 1933 Disney film) color $50
Pied Piper: A German Tale (Coronet) 400 turning $10
Puppy Who Wanted a Boy, The color 800 n/t $15
Rumpelstiltskin 400 red $10
Thumbelina (BFA Films) 400 c $10
Youth Who Wanted to Shiver (Bosustow Studios) 400 turning $10

Death Films
Last Days of Living (NFBC; winner of six intl awards, a trip through the palliative care ward at Royal Victoria Hospital in Montreal) 2400 c $35
Reflections on Suffering (NFBC; terminal cancer patient discusses meaning of it all) 800 c $15


50s 60s 70s Lifestyle, Health, Camp, Kitsch
Art of French Cooking, The (several recipes, including croques monsieurs, beef bourguignon, French onion soup, and cherries jubilee, based on Fernande Garvin's epic book "The Art of French Cooking") 800 c $30
Bargain Basement (NFBC; shoplifter goes to apartment of store detective; bizarre drama) 1200 c $35
Christmas Customs Near and Far (our vote as the worst, most amateurish Christmas film ever made, with Fran Allison, kids, and tacky sets) 800 turning $25
Democracy & the Role of Dissent (the worst human rights film ever made; terrible actors, including old people shaking and barely able to walk) 800 turning $25
Different Approach, A (in this rare film, a young Michael Keaton plays the part of a filmmaker tasked with coming up with a treatment for a film on disabled people. He choreographs a wheelchair chorus line, to the chagrin of the producers. Cameos by Betty White, Carol O'Connor, Jim Nabors, Martin Mull, Ed Asner, Norman Lear. ) 800 turning/nt $25
Gift For Kate (NFBC; nicely made drama about schizo mom) 1200 c $10
Groupthink (terrific dramatized film based on Irving Janis' book, shows how people go along with groups due to peer pressure) 800 red n/t $100
Phoenix V: Zone of Danger (psychotronic sci-fi episode ¡en español!) 1200 red $15
Priory: the Only Home I've Got (depressing NFBC doc on home for the aged; award winner) 1200 c $15
Secret Love of Sandra Blain (alcoholic housewife is treated by drug therapy) 1200 turning $5
Teenage Father (Looks at teenage parenthood from the points of view of the unmarried father, the mother, peers, and both sets of parents.) 1200 turning $5

Social Documentaries
Co-op Housing: the Best Move We Ever Made (NFBC; an answer to high-cost rentals in hot economic areas) 1200 c $10
Dandelions for Jobs (NFBC; unemployed Alberta blue collar workers create new opportunities) 1200 c $10Day in the Life of Bonnie Consolo, A (This film about a remarkable woman was nominated for an Oscar in 1975. Consolo was born without arms, yet she does it all --- you name it, cooking dinner, cutting tomatoes, putting on a necklace, even killing flies, all with her feet. A memorable film). 800 turning $15F
Forgotten American (plight of Navajo in 4 corners area; CBS News) 1200 c $30
Home Feeling: Struggle for a Community (NFBC; 60,000 people in six square block occupy Toronto's Jane-Finch neighborhood, much of it West Indian. Themes of racial tension, crime, police, and solutions) 2400 c $20
Lady from Grey Country (NFBC; portrait of Agnes Macphail, early photos,etc of the first woman elected to Parliament in Canada) 1200 c $25
Legacy of Mary McEwan (NFBC; Canada's first corporate psychiatrist. Feminism in mid-century Canada) 2400 c $10
Louise Drouin, Veterinarian (NFBC; country vet, operations etc) 1200 c $20
Nahanni (NFBC; classic Donald Wilder profile of gold prospector Albert Faille, filmed near Ft. Simpson on the
Nahanni River. Edited by George Kaczender. "I'll be dead or drowned before I quit." ) 800 turning $35
New Bargain (NFBC; examines trade relationships between 1st & 3rd world, focusing on Ashanti of Ghana & Venezuela) $1200 C 10
Offshore Oil: Are We Ready? (NFBC; Shetland Islands in Scotland and small Norwegian fishing towns fight against Big Oil interests) 1600 c $15
Rural Health Workers (NFBC; compares programs in Venezuela, Thailand, etc.) 1200 c $10
Taming of the Fraser (NFBC doc on Fraser River flood control techniques)800 c $15

Judaica
Heritage: Civilization & the Jews series (all beautiful color, hosted by Abba Eban; each has historical and contemporary footage) each 2400 c $60
- A People is Born: 3500 BCE to 6th Century BCE
- Crucible of Europe: 9th to 15th Centuries
Jews of Winnipeg (NFBC; fascinating history in old photos and contemp. interviews) 1200 turning $15
People of the Book (NFBC; thriving Jewish communities in small-town Canada) 1200 c $35

Sports/Outdoors
East Comes West (NFBC; iron curtain coaches defect to Canada & teach) 1200 c $10
Monica Goermann, Gymnast (NFBC; mom & dad relentlessly drive this pre-teen... to insanity or a gold medal?) 800 c $20
Tennis series (classic instruction films showing slow-motion instruction by Billie Jean King). Each is $30 b 800, or $55 for both
· Groundstrokes (forehand, backhand, spin)
· The Serve

Science/Nature
Big Horn (nature cinematographer Marty Stouffer's treatise on the Big Horn sheep of the Colorado Rockies) 1200 red $15)
Dig, The (NFBC; profiles an innovative teacher who "seeds" a burial ground to engage students) 1200 c $15
Farming of Fish (NFBC; interesting look at how Norwegian fishing villages augment economy through salmon farming) 2400 c $25
Fish in a Changing Environment (fish in fossils, function of anatomy) 400 c $10
Global Forecasting (explains tools meteorologists use) 800 c $15
Herring Gull (Social org. in the breeding colony; fascinating) 800 c $20
Last Chance (our National Zoo's Fort Royal preservation project for endangered species) 1200 c $15
Life in the Woodlot (NFBC; moving tribute to woodlands, even though narrator shoots a protagonist) 800 red $10
No Ordinary Highway (NFBC; eco-friendly road is built at Banff National Park) 1200 c $25
Project Puffin (restoring birds to native habitat, Audubon) 600 c $25
Sense of Humus (NFBC; organic farmers describe techniques) 1200 c $20
Tornado Below (girl flies solo into tornado; cheesy drama) 800 c $10


Ethno/Anthro/Sociology/Travel
Special note: many of these films depict cultures and traditions that have already passed from the scene. In them, you'll find documentation of old ways of life, from the subject perspective (housing, arts & crafts) and ours as well (old autos, circular-screen TVs, etc). Some of these films are red, but priced attractively to allow you to experiment. In most cases, red prints are the only remaining examples in existence of a given title.
Alaskan Eskimo (Oscar-winning 1953 Documentary Short; sod house & boat building, etc) 1200 red $10
Case of the Elevator Duck (a sociodrama, probably the first educational film to portray single, working mothers, living in projects, as normal people. Directed by Joan Micklin Silver) 800 c $25
Faces of Man series (looks at people, culture, geography of each nation)
· France a Nation of Beauty (Presents a portrait of France through visits to five different families living in different areas of France. Bretagne fishermen, Marseille, French Alps cheeses, Loire wines, Paris painters "the school smells of cigarette smoke and turpentine." Mont St-Michel to Paris... lots of neat footage) 1200 c $25
Familes of the World (Journal Films) series
· Spain (family of Madrid) 800 c $15
· Thailand fishing culture of Klong-Lung village; best of series) 800 turning $15
Family of the Island: Her Name is Wasamatha (describes life on the island of Malolo, Fiji) 800 turning $15
Feeding/Clothing China's Millions (neat photography, rural and factory) 800 c 15
French Way (technicolor, emphasis on old France, some sprocket damage, great file footage) 800 n/t $5
Jordan & the Wonders of Petra (also featuring Jerash, Kerak, etc., filmed in early 1950s) 800 turning $15
Me and You, Kangaroo (aboriginals, boy & roo drama, directed by Bert Salzman) 800 c $30
Mideast series, superbly documented by Richard Ashworth in 1978, each film presents a different aspect of life in the Middle East. All films are 800' color, and are $25, except 'Land & People'.
· Arts, Crafts & Architecture
· Economic Development
· Land & People ($15 n/t)
· Pioneers of Science
More Than Just the Trees (NFBC; family of woodcutters from New Brunswick fights large logging interests to preserve woodlands) 1200 c $15
Polynesia (National Geographic special, featuring diver Stan Waterman)1200 turning $15
Pompe Ko'om (NFBC; bush education project in Ghana. Fascinating) 1200 c $25
Two Grasslands (exceptional film comparing rugmaking Qashquai nomads of Iran with Texas farmer) 800 c $25
Wayne Mitchell, Producer/Director:
· Eskimos: A Changing Culture well done juxtaposition of cultures) 800 c $30
West Indies: Lands in Transition (Jamaica, Puerto Rico, Hispaniola, etc) 800 c $15
What Have You Done With My Country? (Aborigines vs. "progress") 1200 c $30
William Deneen, Producer/Director (Deneen founded Learning Corporation of America. Most of the following films were done for Encyclopaedia Britannica prior to the founding of LCA)
· Arts & Crafts of Mexico (part II) 800 red $5
• Eskimo Family (seasons, migration, hunting; filmed at Frobisher Bay -Iqaluit on Baffin Island. 800 turning $15
Paul Saltzman's World Cultures & Youth series: this was the finest ethnological series of educational films ever made. Breathtakingly filmed and produced by Paul Saltzman, each is the true story of one aspect of traditional art passed from generation to generation. Many of the principals in these films are famous national artists.
· Gopal's Golden Pendant (India) 1200 c $35
Yugoslavia (a young girl visits Sarajevo: see it as it was in '86!) 600 c $30

Native American
Boy of the Navajos 400 c $15
Forgotten American (plight of Navajo in 4 corners area; CBS News) 1200 c $30
Kainai (NFBC; Blood Indians start a factory) 1200 c $15
My Friend (shows challenges faced by young Navajo and white friends as they encounter prejudice in school) 800 c $15
People at Dipper (NFBC; traditional Chippewa culture at Dipper Lake Reserve, Saskatchewan) 800 turning $15
Two Knots on a Counting Rope (Navajo grandfather teaches boy to count) 400 n/t $5

History, Biography
Atlin (historical perspective on a small Canadian town) 800 c $15
Bill of Rights in Action series (Bernard Wilets' thought-provoking series)
- Equal Opportunity (two men of equal abilities in conflict over one job) 800 turning $15
Canada's Provinces & People series, Coronet 1973. Geography, history & culture. Each is 500 c $10
· Prairie Provinces
Civil War: Promise of Reconstruction (dir. by John "Dogs of War" Irvin) 1200 turning core $20)
Debt to the Past: Government & Law (Moody Institute tells of our gov't derived from "God's law) 800 red n/t $10
Discovery of America: Westward Movement (chronology) 800 turning $10
English History: Norman Conquest to 15th century 400 c n/t $10
History Makers series (from NFBC; well-acted and directed dramas detailing significant aspects of Canadian history). Each is 1200 b $5
· Joseph Howe: Tribune of Nova Scotia (1834, freedom of the press court case)
· Lord Dunham (his advocacy of self government destroyed his career)
· Lord Elgin: Voice of the People (successor to Dunham)
· Louis-Hippolyte Lafontaine (French-Canadian patriot)
Land of Immigrants (Diversity of U.S., Third Stream jazz score by Fred Katz & Buddy Collette) 800 turning $15
Legacy of a Dream (historic Martin Luther King footage, some sprocket damage first 5 minutes of film; great for footage/documentary use) 1200 b $10)
Life in a Medieval Town (Recreation of village life) 800 red n/t $5
Moses Coady (NFBC; bio of social-reforming Canadian priest in the Maritimes) 2400 c $10
Oshawa Kid (NFBC; bittersweet profile of 98-year old Sam McLaughlin, details the beginnings of Canadian auto industry) 1200 turning $20
Pioneer Journey Across the Appalachians (1982; history of westward movement) 800 c $15
Search for Fossil Man (Natl Geo story of diggings in South Africa by Philip Tobias) 1200 c $35
U.S Expansion Overseas (top color review of expansionist policies in Cuba, Philippines, etc) 800 c $15
Vietnam Perspective (terrific and poignant history of war-era Vietnam, made in 1984, narrated by Bill Kurtis) 1200 c $50
Vikings: Life & Conquests (well-photographed recreation of boats & lifestyle; filmed in Scandinavia using the recreated Viking ship Gokstad EB) 800 some lines red n/t $10
Voice of the Fugitive (underground RR drama, African-American theme) 1200 c $25

Literature & Drama
American Short Story series, from Perspective Films:
· Soldier's Home (Hemingway) 1600 c $30
Canadian Writers (The National Film Board made a series of films on Canadian writers that are among the finest biographical documents of writers ever produced. A great intro to the "beauty and terror" of literature from the North).
· Wake for Milton (NFBC; Al Purdy & other Canadian poets stage a wake for recently deceased poet Milton
Acorn) 1200 c $20
Change of Heart (NFBC; well-acted story of older woman starting out on her own after years of badgering by her husband) 2400 c $10
Does Anybody Need Me Anymore? (edited from "Tell Me Where It Hurts" st. Paul Sorvino & Maureen Stapleton) 1200 c $35
English Literature: Chaucer & the Medieval Period (Re-enactments of a Robin Hood ballad, piers plowman, Sir Gawain and the Green Knight, Morte D'Arthur and part of the Canterbury Tales.) 800 b&w $10
From the Mixed-Up Files of Mrs. Basil E. Frankweiler (Ingrid Bergman stars in a film about two children who run away to live in NYC's Museum of Modern Art) 1200 c $40
John Barnes, Director/Producer, Encyclopaedia Britannica Humanities Series (these spectacular films were directed by the incomparable John Barnes, and several are narrated by Clifton Fadiman. They stand as the highest example of the art of the
education film)
· Theatre: One of the Humanities (w/Clifton Fadiman) 1200 c $20
· Themes of Macbeth 1200 c $35
LCA's "Learning to be Human" series
· Luke was There (dir. Richard Marquand; Scott Baio stars; alienated city boy) 1200 turning, n/t $10
· That's My Name, Don't wear it Out! (Fine story about deaf boy & alienated boy becoming friends) 1200 turning
$10
Sir! Sir! (NFBC; dir. Michael "Waiting for Fidel" Rubbo. Drama students take over a class in which the "students" are their teachers). 800 b $25

Arts Crafts, Dance, and Music Films
Acting Class (shows rigors of getting it right at National Theatre School, Toronto) 1200 c $15
Art Heritage (a tour through the Metropolitan Museum of Art) 1200 red $5
Art of Body Movement (a program by Tucson dance doyenne Barbara Mettler; rare) 2400 b $50
Arthur Erickson (NFBC; internationally acclaimed architect shows his buildings, models, etc) 1200 c $35
Baggage (mime Mamako Yoneyama's view of the future, set beautifully in San Francisco) 800 b $35
Hoppy: Portrait of Elisabeth Hopkins (NFBC; profile of 88 year old naive artist from British Columbia) 12 00c $20
John Nesbitt: Sculptor (large metal sculptures, studio of artist, etc) 1200 c $25
Music Experiences: Grand Canyon Suite (excerpts from the piece, including animation, and sequences showing Grofé notating the music) 800 red $15
News Communication (George Will, Edwin Newman, and Bill Moyers discuss differing approaches to story) 800 c $20
Profiles in American Art series (gorgeous cinematography by Ken Meyer of Western artists; beautiful settings such as Grand Canyon, Tetons, etc. augment each artist)
· Edward Fraughton: Of Horses & Men (sculptor of animal bronzes, very good illustration of lost-wax technique) 1200 c $30
· Conrad Schwiering (painter of Grand Tetons) 1200 c $35
Quebecois Rediscovered (NFBC; painter Joseph Légaré, landscape & historical painter of the early 19th century) 2400 turning $15
Sixty Second Spot (Jack de Sort & crew film a 7-Up ad in the desert) 1000 c $50
Trolls of Norway (Troll introduced and handmade by Arthur (Grandpa) Stavig; sets & music by Richard Hawk) 600 turning $20
Windows (experimental film, looking through various windows to the outside world; made by Rich Humphrey) 400 c $20

Miscellaneous Shorts, non-animated
Evan's Corner (black boy's rejection of selfishness in a working-class, inner city neighborhood) 800 c $15
Fool's Dance (parody of a nursing home, in which a patient perceived as senile begins quoting Shakespeare) 1200 c $25
Freedom of Speech (Bill of Rights in Action series; reenactment of Nazis speaking in front of synagogue) 800 c $20
Getting Along (non-narrated story of grandpa & the kids) 200 red $5
Gopher Broke (NFBC; silly drama takes place in 1935 Saskatchewan)1200 c $10
La Garonne (French language about the river) 300 c $10
Left Out (NFBC; unemployed dad leads to daughter's distress) 800 c $5
Love Affair with Politics (NFBC; bio of Marion Dewar, mayor of Montréal) 1200 c $10
My Grandson Lew (well-known film about death of grandfather & explanation to child) 800 c $20
Poison Ivy (portrait of 66 year old blind runner; neat film) 500 c $10
Running Scared (NFBC; moving drama about destructive effects of jealousy) 1200 c $15