Search the AFA site
Current and Upcoming SF Bay Area shows...
"Ricky has been raving about ciné16 all the way to Perth, Sydney and back to
Paris. We thoroughly enjoyed our evening at your place, the cabaret style, the
relaxed and responsive audience. It was really great."
- Valérie Lalonde on documentary filmmaker Richard Leacock's visit to ciné16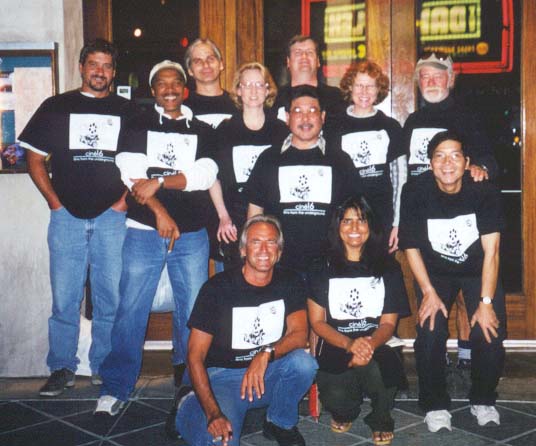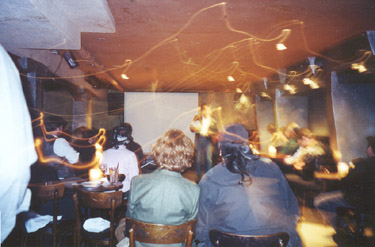 For eight years, we invited you to follow people like these downstairs, under the sidewalks, for underground cinema in San Jose... and yes, ciné16 t-shirts are what they're wearing. Click here for a close-up on the design, and details on how you can get yours!
Next Bay Area show...

Watch this space, as new shows will be announced here. You can also view selected AFA films free on the internet right now!.
We host occasional shows in the San Francisco Bay Area. For complete information on all films we've shown in the past, look at filmnotes to the 412 free film programs we ran, beginning in 1996, in San Jose and St. Louis, comprising over 1,500 films.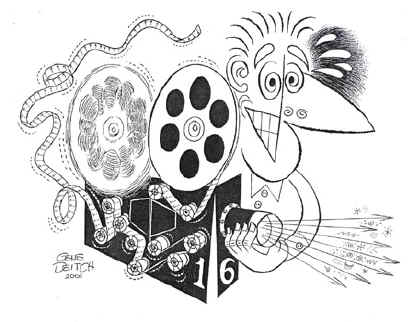 Thanks to animator extraordinaire Gene Deitch for designing ciné16's crazed projectionist logo... and, we still have ciné16 logo t-shirts!