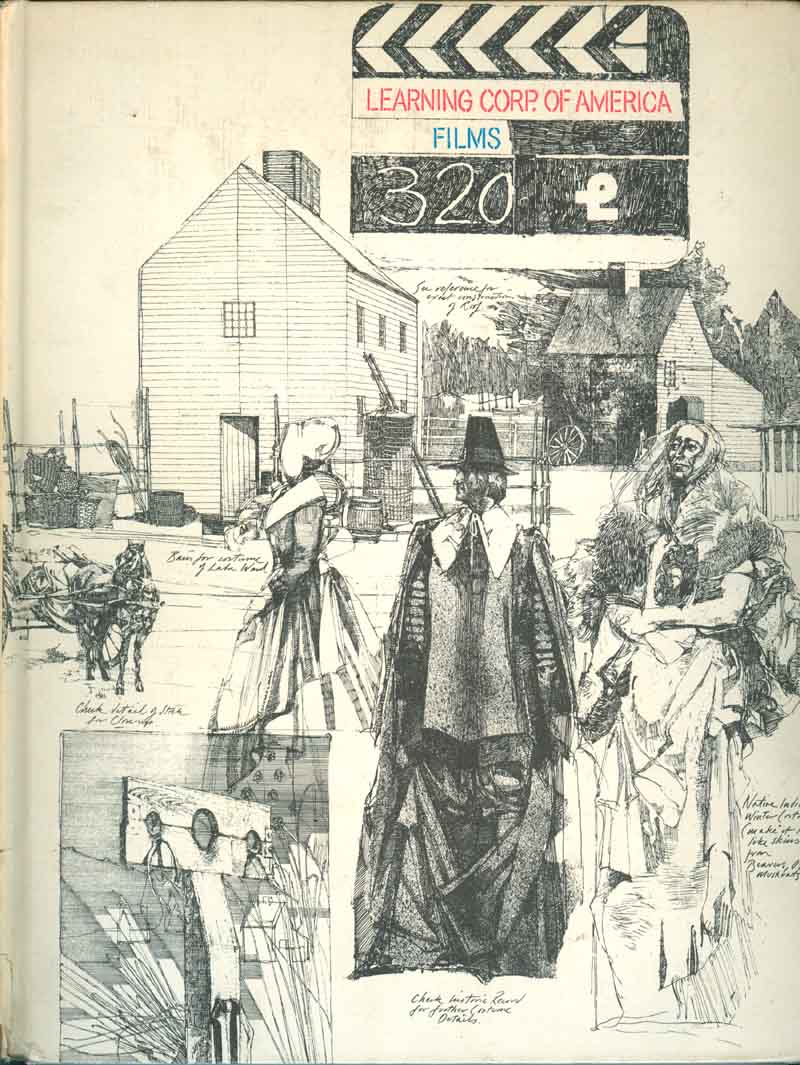 LCA's 1975 hardbound catalogue, designed by Elaine Mason. The cover consisted of preliminary sketches made for the films 'The Puritans.'
In 1967, William F. "Bill" Deneen founded the Learning Corporation of America (LCA) as a Division of Columbia Pictures Corp., and created a company that changed the face of Educational Film by producing films that for the first time, on a large scale, mirrored the social and ethnic diversity of the classroom. One innovation spearheaded by Deneen was the use of well known professional actors from theatrical films and television as well as writers and directors from the entertainment media. Prior to the advent of LCA, most educational film had been made by academics and specialists in various subject areas. A number of LCA films are available for free viewing on the internet. Among them are:
'Clown' (1969) 15m, dir. Richard Balducci. Along with Larry Yust's 'Lottery', 'Clown' was probably the two best selling ed films ever made. On the surface, it's a cute kid & dog story. Underlying is a possible subtext that fascinates us every time we view the film, and makes for a satisfying, yet ultimately ambiguous ending. Gilou Pelletier is outstanding as the small boy, and the camera work by Guy Suzuki takes wonderful advantage of the terraces of Montmartre.
'Middle Ages - A Wanderer's Guide To Life and Letters' (1970, 27m, dir. Piers Jessop). Jessop's 'Wanderer's Guide' is full of humor (some of it, wonderfully, on the dark side), and is a tour-de-force for the brilliant acting of Nicholas Pennell as 'Robert,' a fun-loving, arty, bawdy, and roguish guide to the culture, politics, and mores of the year 1350. Athletic and erudite, Pennell stole kisses, ran from pursuers, and leapt obstacles as he engaged the viewer by proving that old times may not have been all that different from newer ones, seemingly encouraging individuality while perversely at the same time striving to crush it. Pennell, who for the following twenty years would be one of the Stratford Theatre of Canada's leading actors, was born in Devon, England in 1939, and died in Ontario in 1995.
'Rocking-Horse Winner, The (1976, 30m, dir. Peter Medak) Presents an adaptation of the novel of the same title by D.H. Lawrence, about a young, sensitive English boy whose rocking horse empowers him to predict winning racehorses at the eventual cost of his life.
LCA Films by Bert Salzman: Angel & Big Joe, Felipa: North of the Border, Geronimo Jones, Lee Suzuki: Home in Hawaii, Matthew Aliuk: Eskimo in Two Worlds, Me and You: Kangaroo, Miguel: Up from Puerto Rico, Shopping Bag Lady