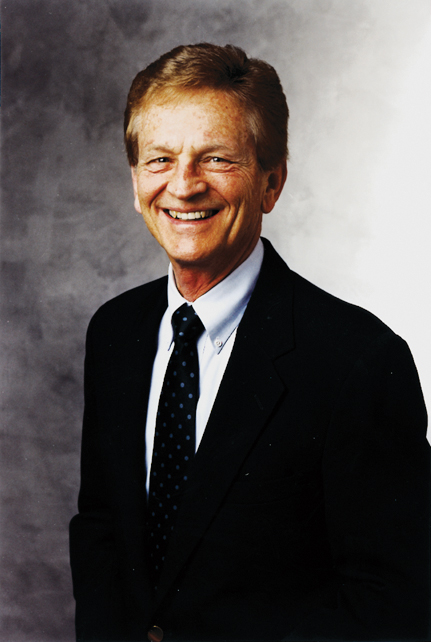 "Recycled television doesn't cut it. That's why our content is produced and correlated for the classroom!" - George Holland
George Holland is an esteemed executive in the academic film industry, and if you've ever seen a film made by Bailey/Film Associates (BFA) or Barr Films, there's a good chance Holland had something to do with it.
Kevin Flinn interviewed him in February, 2012, and wrote the following biography:
While a graduate student at the University of California Santa Barbara, George Holland (b. March 5, 1937) fell under the sway of a charismatic teacher: Homer "Murph" Swander, an English Literature professor who believed that "Shakespeare cannot be understood unless one sees and experiences his plays in performance." Swander founded ACTER (Association for Theatre Education and Research), which brought famous British actors like Ben Kingsley and Patrick Stewart to American universities to teach and perform. After earning his Ph.D from UC Santa Barbara in 1968, Holland later became involved in ACTER, making a short Shakespeare video series (Shakespeare Explorations with Patrick Stewart) and working with the Oregon Shakespeare Festival, which inspired his eventual residence in Ashland, Oregon.
Under Swander's guidance, Holland was inspired to examine the crossroads where live theater, written drama, and film intersect. As a tenured professor at the University of Arizona in the 1970s, Holland used many of the film adaptations of Shakespeare's plays available on 16mm, since "there was little live performance available in Tucson in the '70s." Holland also used a lot of audio recordings of drama because it was easier to put selections from them to tape, and integrate them closely into class discussions of particular scenes and speeches. There was also an abundance of audio recordings of other dramatists (such as Christopher Marlowe and Ben Jonson) as well as modern plays that Holland used in the classroom, but not a great deal of filmed versions, either direct-to-film adaptations or those filmed from the stage.
In 1973 Holland was hired by the CBS educational media company, BFA Educational Media to head its West coast production (BFA was originally a company formed by an amalgamation of teh film companies of Al Bailey and Paul Burnford. CBS eventually sold its BFA holdings to Phoenix Learning Group in 1981). His initial foray into educational film was a script for a film titled "The Theatre in Shakespeare's Time." After the film's success, Holland became BFA's Vice President in charge of Production. An avowed fan of filmmakers as diverse as Akira Kurosawa, Ingmar Bergman, and Woody Allen, Holland's theater and literature backgrounds gave him a good start on bridging the gap between media director and classroom educator, as he knew enough about the aesthetics, mechanics, and content of both. "The media director often does not understand the needs of the classroom educator," says Holland, "and educators often do not see the value of how to use media to successfully educate the diverse American student population." Holland saw his job at BFA/Phoenix (and later as Executive V.P. for Educational & Television Production at Barr Media Group, where he began in 1985) as making media that helps teachers and students do their jobs while also directing programming with instructional designs that both educate and inspire the learning process.
"It was trial by fire," Holland recounts, "but I continuously learned a lot on the job about both areas of expertise as I went through my career. As I expanded from heading up humanities and social sciences content into other content areas, and from commissioning documentary-style programs into dramatic and eventually digital programming --- as well as covering all curricula, including sciences, mathematics, health, and other content from kindergarten through senior high and higher education --- I was constantly expanding my own knowledge and experiential base." Holland learned as much as he taught, in other words, and claims that most of the Hollywood producers and directors that he worked with taught him much about what makes good media, and his contacts with educators taught him what they needed to be successful in the classroom.
Having experience from both sides of the educational film, Holland ensured that his productions maintained coherent instructional design that not only enlightened, but grabbed student attention through the affective tools of visuals, editing, scripting, and sound effects. As a direct response to the dearth of available films during his teaching days, he also ensured that adaptations of widely-taught books, stories, and plays were available for use in humanities classrooms. As both researcher and executor, he found the most suitable producers and gave them ideas for programs that would sell best in the educational media marketplace. Among Holland's favorite educational films are two that he produced and garnered major recognition in 1992: Harry Comes Home won the Carnegie Medal for Excellence in Children's Video from the American Library Association and Harry the Dirty Dog took home the CableACE Award for Children's Programming, Six and Younger.[i]
Holland stresses that although the budgets were infinitely smaller, the educational film industry in the '70s and early '80s (before the advent of VHS) functioned as microcosms of the Hollywood model. While at BFA/Phoenix, Holland created a document titled "The Info & Benefits," which described the media style, curriculum fit, proposed budget, competition, and other data for a production project. After a forecast from the sales department, Holland either gave the producer/director a green light, or went back to the drawing board and revised production details and budgets as necessary. As was the case with Hollywood studios, his budget was dependent on previous sales, so he was given an amount at the beginning of each year that he had to manage for the rest of the year's production. For example, Holland recalls that his highest yearly budget at Barr was in the neighborhood of $1 million dollars, which would have been earmarked for around 100 original programs. With the onset of home video, Holland, now the VP of Production at Barr Films, saw the 16mm market shrinking, and the company eventually folded in 1996. The late '90s, according to Holland, were times of great turmoil in the educational film world, as original educational material became "nearly impossible to produce" as sales returns dropped while production costs continued to rise. When one considers that a production company could feasibly sell a print of a popular 16mm film for $500 or more, the idea of the reduced profit coming from a a $19.95 VHS cassette would no doubt strike fear into the heart of any educational film executive. As production budgets shrank, however, Holland often supplemented original productions with the acquisition of distribution rights to independently-funded programs, which were often available through educational media festivals and television markets (today, in 2012, Cannes' MIPTV will gather over 10,000 media professionals from 107 countries in the TV, digital and advertising fields). These were often more affordable than original productions, but may not have had the market fit of his productions; Holland thus began obtaining rights that allowed him to re-edit the productions for education markets.
Holland numbers his greatest successes into two categories: dramatizations of social science issues (especially the Man and the State series produced and directed by Bernard Wilets) and dramatizations of literary stories for humanities curricula (most notably Wilets' classic short stories adaptations and Peter Matulavich's adaptations of classic children's books).
In recent years, Holland is extremely proud of his work adapting PBS' Nature series for educational use. However, he laments the loss of an earlier PBS series, American Short Stories on Film, as the larger Coronet Media company outbid his company for the distribution rights. With Holland's background in producing and distributing literary adaptations, it's clear to see why the latter would distress him; he cites as his dream production The Complete Plays of Shakespeare with American actors as an example. This series, Holland says, would both compete with and complete the excellent Shakespearean plays produced by the BBC in the late '70s and early '80s.
Over the course of Holland's extensive career in educational media, his productions have earned more than 100 awards and honors from such prestigious organizations as CableACE, American Library Association, National Educational Media Festival, and the Gold Apple Award.[ii] Serving as Senior Vice President of Education Programming and Development for New Dimension Media's Core Curriculum Content (CCC!) online streaming service until his retirement in 2007, Holland would like to be remembered and regarded by future historians of educational film as the best executive producer mediating between the most talented filmmakers/media producers and the outstanding teachers and students learning from the finest curriculum programs.
Selected Filmography
As Executive Producer:
Colonial Life Series (seven television/video programs)
Harry the Dirty Dog (adaptation of Gene Zion and Margaret Bloy Graham's 1956 book)
Harry and the Lady Next Door (adaptation of Zion and Graham's 1978 book)
Otherwise Known as Sheila the Great (aAdaptation of Judy Blume's 1972 book)
Shakespeare Explorations with Patrick Stewart (Six programs featuring Royal Shakespeare Company actors)
Native Americans Series (seven programs, including an adaptation of "Legend of the Bluebonnet")
Human Body Systems (seven animated science programs)
World Geography Series (fifteen social studies programs)
Barr Science Series (eight programs for secondary education classrooms)
Bernard Wilets' Classic Short Story Series (adaptations of stories by Faulkner, Steinbeck, de Maupassant)
Bernard Wilets' Bill of Rights in Action Series (dramatizations of opposing arguments in key Constitutional issues)
As Writer/Executive Producer:
Theater in Shakespeare's Time