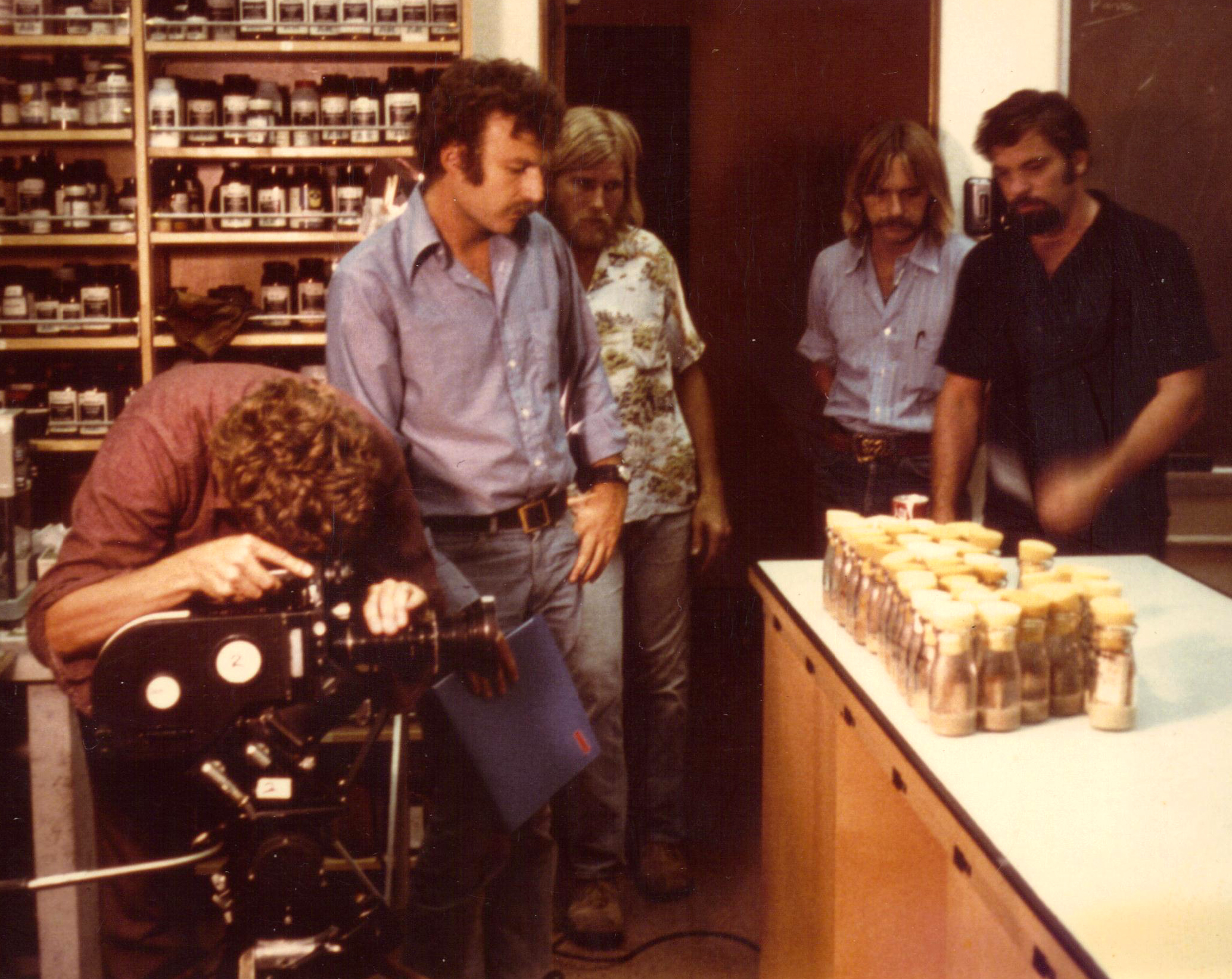 Steve Katten, second from left, directing Fruit Fly: a Look at Behavior Biology (1974)
Steve Katten was interviewed in February, 2012 by Kristina Bell, who wrote the following biography:
Steven Katten, throughout his 45 year career in the film industry, was dedicated to creating informative films that were creative and cutting edge. He consistently pushed the envelope to make films that contained new, and occasionally controversial information. Many of his filmmaking philosophies can be traced back to his beginnings as a movie journalist and trailer producer, but his skills and talents were honed while he worked as a writer/producer/director for CRM, an open-minded, creative, collaborative, educational film production company. After the CRM Films department was bought by McGraw-Hill in 1974, Katten continued his successful career in the film industry. He directed many projects, including films for PBS, a magazine style news show for ABC, and management training videos for Fortune 500 companies.
Steven Katten was born on March 28th, 1941 in Potenza, Italy. His father, Rudy Schroeter, was a bureaucrat from Vienna and his mother, Ilse Shneeman, was from Berlin. They met in Genoa, Italy and were married until Rudy tragically died from a misdiagnosed appendicitis. Ilse, now a young widow and a single mother, decided to escape the battle zones of World War II as best she could, and fled with her parents and young child to America. They traveled to New York City in 1944 on a ship with 1000 other refugees, pursued by German submarines and war planes throughout most of their journey (author Ruth Gruber has documented these journeys of World War II emigration in her book Haven).
Steven Katten fell in love with the city; after high school, he enrolled at New York University as an English major. It was at NYU that Katten realized he had a passion for writing. After graduation, Morton Sunshine, the publisher of the Independent Film Journal, hired Katten as a reporter and movie critic. When Katten moved to Europe, he was appointed as the magazine's European correspondent, which allowed him to interview major filmmakers including Stanley Kubrick, who was then directing Dr. Strangelove or: How I Learned to Stop Worrying and Love the Bomb. Katten left Europe in 1964 when he was drafted for the Vietnam War. He returned to New York City, only to discover a minor health problem that prevented him from serving in the military.
Katten then began working for Paramount Pictures' advertising department in New York, but was soon promoted to produce movie trailers in their Los Angeles studio. Lou Harris, the department head, took Katten under his wing and taught him filmmaking. Katten believes his early trailer experience helped prepare him for his later work in educational film: "Trailers and educational films have something in common - to sell an audience, to make them want to learn about that subject. After the film is over and the lights come on, you want the students to ask questions and research the material on their own. You want them to be excited about something they weren't excited about before."
Katten left Paramount in 1966 to work for another film trailer company in New York City, Cinemedia, which was more cutting edge. Cinemedia also created trailer television spots for movies, a new outlet for film promotion. They used innovative stylistic techniques to make trailers more interesting, exciting, and eye catching. Katten said, "It felt like you were creating a new form that had not existed before." Creative freedom was important to Katten; whenever he took a job simply for money, he later regretted it. Katten loved working on trailers, but the hours were long and there was too much pressure. He wanted a job that allowed him to be creative but also allowed him to enjoy his own life. This is why, in 1971, when his friend Tom Lazarus called and offered him a job with CRM Films, he accepted.
CRM was started by Nicolas Charney, George Reynolds, and Winslow Marston. CRM's objectives were to publish Charney's magazine, Psychology Today as well as college textbooks. CRM's textbooks were unique and modern; they were rich in graphics, color photography, and they reflected the zeitgeist of the late 1960s through the early 1970s. After their initial success, CRM decided to publish college level, educational films to serve as companions to the textbooks.
CRM Films was created in 1970, where Tom Lazarus' brother, Paul Lazarus III, was executive producer. Paul was a strong manager who supported creative expression and a collaborative work environment. It was important to Paul and to CRM's founders that the films reflect the style of the textbooks: they had to be unlike any other educational films that were made before. To ensure this, Paul hired filmmakers who did not have a background in educational filmmaking. Instead, he hired people whose experience spanned the television series Sesame Street, print advertising, and movie trailers. The company was small; all 20 employees occupied a Beverly Hills warehouse, where they worked together with minimal conflict. When conflict occurred, it was typically over the budget. However, if the filmmakers made a strong case to increase the budget for a creative endeavor, most often they received the increase. All CRM employees shared a similar passion and mission: they wanted to create work that was ground-breaking, revolutionary, defied all rules, and represented the late 1960s mentality. They were given whatever they needed to achieve these goals: large budgets, decent sized crews, good equipment, and creative control of their work.
When Katten arrived in Los Angeles, he was dismayed to discover his first job was to produce and direct a series of biology films. He was apprehensive at first (he almost got on a plane and returned to NYC), but Paul Lazarus was convinced his inexperience in biology would be an advantage. Lazarus wanted creative experts, not science experts, to create the films. He believed that if one hired people who knew little about science, they would more easily relate to an audience of students. Because the films were companions for published textbooks, they had a strong team of advisors who knew the material expertly and could help teach Katten. Katten studied the material, interviewed the experts, wrote the script, hired a crew, directed the film, and supervised the film editors. Despite his inexperience in biology, he was able to take complex information and simplify it, rephrasing it in such a way that is would be understandable to a student. As Katten developed and grew as a filmmaker, he created numerous award-winning, creatively innovative 16mm films. Among Katten's contributions to educational film were his ability to conduct strong interviews, recruit talented filmmakers and actors, and employ innovative and interesting stylistic techniques.
Early on, Katten suggested a radical change in the way interviews were conducted for CRM Films. Previously, CRM directors would first meet the science experts at the time of their interviews, conduct lengthy filmed interviews, and later choose what to keep. Katten, instead, travelled to the experts and interviewed them off camera before writing the script. This method saved a lot of film, time, and money. The pre-interview process allowed Katten to build a rapport with the interviewee, which in turn provided a better interview on the day of shooting. Because Katten was better prepared, he was able to organize the story before shooting and only get the material necessary to make the film.
Katten, in keeping with the philosophy of CRM Films, was invested in making sure his experts were diverse. Even though there were few women and minority scientists in the 1970s, they managed to find a significant number of them. CRM discovered David Suzuki, a third generation Japanese-Canadian, to host Cell, The: a Functioning Structure, Parts I and II, which Katten wrote, produced, and directed. Suzuki was a brilliant scientist who later went on to a long career as a television host for CBC, PBS and the Discovery Channel, among others. It was also important for Katten to find researchers who were working on groundbreaking, sometimes controversial projects. Katten included interviews from scientist Dr. Lynn Margulies, who had developed a controversial theory explaining how parts come together to form a cell. Katten and his science advisor believed in her research and determined the inclusion of modern research would give the film a longer shelf life. Katten directed a film titled Fruit Fly: a Look at Behavior Biology that discussed the work of geneticist Dr. Seymour Benzer. In the film, Dr. Benzer discusses various gene mutations found in fruit flies, including homosexuality.
Katten had a good eye for talent and managed to recruit budding professionals who went on to have very successful careers. He realized that filmmaking was a collaborative effort; it was impossible to do amazing work without help: "I began to realize, when you have this kind of endeavor, the more talented the people you can find to surround you, the better off you will be." Katten worked on several films with noted educational and feature film cinematographer Isidore Mankofsky (e.g. Somewhere in Time, The Jazz Singer) whom Katten considered an important mentor in his life. Katten also worked with Thomas Azzari, who became a set designer for Seinfeld. Katten actively fought to hire a budding young actor, Martin Sheen, to narrate Fruit Fly: a Look at Behavior Biology. At first, Sheen was hesitant to take the role, but agreed after the meeting with Katten. It turned out that Sheen was worried he would mispronounce the scientific jargon used in the film.
Not only did Steven Katten work with talented crew members, but he made an effort to push the envelope to create cutting-edge, creative films. His goal was to excite young viewers; to encourage them ask questions and research the material on their own. He was able to evoke this excitement by using innovative filmmaking techniques. He would often go to California Institute of the Arts to find talented young animators to work on his films. He purchased filmed material from the experimental filmmaker Jordan Belson to illustrate expanding atoms. He hired a studio to create 3D animation, which was a new technology, to animate chromosomes splitting for his film Cell Division: Mitosis and Meiosis. The 3D animation studio went on to produce the film Ice Age 30 years later. His cinematographer and friend Larry Logan created a lens of approximately 3.5 feet in length to film fruit flies copulating. For his film, The Nature of Matter, Katten rented a helicopter to film the Stanford Linear Accelerator, which was a two mile-long above-ground tunnel. He sped up the footage to simulate how particles traveled through the accelerator. Katten consistently thought of creative ways to present the information: "There is a way to film an action that is a touch better than normal. If you have the ability and the supporting personnel to make a shot more interesting, that hour's work is more interesting because there is a challenge. The trick is to not to let the creativity get in the way of the information, but add a little zest; that added zest is what I tried to pursue throughout my career."
When CRM was bought by McGraw-Hill in 1976, the company's objectives changed. They focused on business management films and the Beverly Hills office was closed. Katten left CRM and freelanced for the remainder of his career, traveling where the work took him. He directed the ABC news magazine show Special Edition, which starred Barbara Feldon, for a year, but decided he was more passionate about educational film. He directed two episodes, Behavior Control and Doctor, I Want, for a PBS bioethics series, which won the prestigious Alfred I. duPont-Columbia University Award. He directed a Time Inc. business film, Supervisors, which taught business professionals how to be better managers.
Eventually, he moved to New York City to start a family. He has spent the last twenty years of his career creating films for Fortune 500 companies as well as business training films. Out of all of his work, he seems to be the most excited when discussing his time at CRM: "Every day you went to work, you would be excited not just by the work, but by the information that would enter your brain. It was a great way to spend life. You don't do it to become rich, but you do it to keep your brain awake and meet interesting people and remain an interesting person yourself." He added, "I hope that your job is half as fun and rewarding as mine was at CRM."

Filmography
The Cell: A Functioning Structure Parts One and Two (with David Suzuki) [1972]
The Cell: A Functioning Structure Part Two [1972]
The Nature Of Matter: An Atomic View [1973]
Cell Division: Mitosis and Meiosis [1973]
Group Dynamics: Groupthink [1973]
Development and Differentiation [1974]
The Fruit Fly: A Look At Behavior Biology [1974]
It's Not Fair [Frustration/Aggression] [1975]
I Only Want You To Be Happy [Sex Roles] [1975]
But Jack Was A Good Driver [Teenage Suicide] [1975]
When's The Big Day [Young Marriage] [1975]
I Guess I Got The Job [Interviewing] [1975]
Communication: The Nonverbal Agenda [1976]
Burns [1977]
Antarctica: Exploring The Frozen Continent [1978]
Special Edition [1979]
Creative Problem Solving: How To Get Better Ideas [1979]
Behavior Control [1980]
Justice and Health Care [1981]
Supervisors [1982]
Learning To Think Like A Manager [1983]
Coaching [1983]
Breakdance: You Can Do It! [1984]
Organizational Climate [1985]
Careers In Math And Science[1986]
Entrepreneurs [1986]
Putting Your Best Foot Forward [1987]
The Leadership Challenge [1988]
The Credibility Factor [1989]
Workteams & The Wizard Of Oz [1990]
The Submarine Syndrome [1991]
Mining Group Gold [1992]
Citibank: Global Success Stories [1997]
12 Angry Men: Teams That Don't Quit [1998]
It's A Wonderful Life: Leading Through Service [1999]
The Cuban Missile Crisis [2000]
How To Ask Positive Questions [2001]
Own It! [2002]
How Do You Put A Giraffe Into A Refrigerator? [2004]
Five Star Teamwork [2005]