David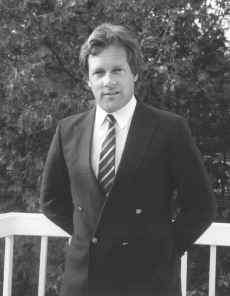 Kennard is primarily known in the North American classroom for his excellent work with the BBC, his first film appearing in 1970 (in the 'Germany' ten-part series). Possibly his most significant contribution to the genre are the titles he directed in Peter Montagnon's exceptional Heart of the Dragon (1982-3) series, in which a crack team of documentarists (Montagnon as well as filmmakers David Kennard and Mischa Scorer , with co-producers Patrick Lui, Nigel Houghton, and Alasdair Clayre) pursues the mysteries of China, as narrated by a refreshingly good (and off-camera) narrator, actor Anthony Quayle.
In an interview with the AFA's Geoff Alexander, Kennard noted that the story of the development of this series was a fascinating story of the integration of complex factors that must come together to produce a work of this scope and quality. When the series was conceived in 1981, China was still pretty much a 'closed shop', and access to people and institutions was extremely limited to outside filmmakers. Co-producer Patrick Lui met with Nigel Houghton in Hong Kong, and mentioned that he had several high level contacts in China, and that it would in fact be possible to produce a series of programs. Houghton then advanced the idea to Montagnon. At the same time a new broadcasting entity, Channel Four, was just being launched in the UK, and was in need of programs. Lui, Houghton, and Montagnon then formed Dromelia, a corporation set up for the production of the series, and received funding from banker Stephen Keynes (son of the economist John Maynard Keynes). At this point Montagnon brought an old friend from the Open University days, Alastair Clayre, into the production group, and the began filming (Open University, incidentally, was an educational institution dedicated to non-traditional learning environments, distance learning among them).
David Kennard made several films in the series, among them Working, in which the director visits a locomotive factory, and investigates pre-Mao and Japanese-era working conditions. Eating is a fascinating look at cultivating, preparing, and cooking food, including the means by which village houses utilize methane gas from underground pig refuse pits to power homemade stoves. Kennard's filmography (below) reveals an almost encyclopedic involvement with well-known BBC documentary series, including Jacob Bronowski's Ascent of Man films. It is in Heart of the Dragon, distributed by Time-Life, that Kennard shines as a director of sensitivity and power. Overall, his work has won the National Emmy, International Emmy, Dupont Columbia, American Historical Association, National Education Film Festival, International Science Film Festival, Houston Worldfest, Alexander Hamilton, Cine Gold Eagle and Peabody Awards.
As of this writing (1998), Kennard is the co-founder and President of InCA (Independent Communications Associates Inc), a worldwide non-fiction production company with offices in London, San Francisco, Sydney and Nairobi.
Filmography
Kennard's 16mm film legacy lies primarily in his documentary television series work distributed for classroom use. His most recent work is listed first:

1998: Now What?
Client: The Learning Channel (Discovery Communications)
Pilot for a series about the future, featuring Virtual Reality cityscapes , dramatic scenarios and website.
David Kennard: Creator/Executive Producer/Co-writer

1998: Inner Journeys
Client: Cross Cultural Journeys/IONS
Pilot for a series of travel videos to exotic destinations, focusing on the spiritual quests of the participants
David Kennard: Executive Producer/Co-writer

1997/8: Dreaming Dreams: Amelia Earhart's Last Voyage
Clients: Romeo Delta Productions and South Carolina Educational TV for PBS and international distribution.
Documentary and home video about World Flight 97, a recreation of Earhart's fateful 1937 journey, shot in 19 countries worldwide.
David Kennard: Senior Producer/Writer/Co-composer

1996/7: Pulling Out All the Stops
Clients: American Guild of Organists/PBS
AGO Centennial music special featuring pipe organs in concerts, theaters and churches, plus training film and sales tape.
David Kennard: Executive Producer/Co-director/Co-writer

1996: T.H.E. Course
Clients: Glaxo Wellcome and Foote Cone & Belding.
Public Education film on AIDS and HIV
David Kennard: Producer/Director/Co-writer

1996: Global One
Clients: Sprint/The Shandwick Group
Launch video for new international telephone consortium Sprint/France Telecom/Deutsche Telecom
David Kennard: Producer/Director/Co-writer

1996: V-R Cybercampus
Clients: Levi Stauss & Co, in partnership with NTT of Japan
World's first combination of virtual reality and teleconferencing, beta tested in kiosks on campuses throughout San Francisco area.
David Kennard: Writer/Narrator/Producer

1995/6: The Fragile Fortress
Clients: KTEH for PBS and international distribution by WHO/Glaxo
Documentary special on rise of infectious disease in urban centers of the US. Broadcast premiere 95. Winner, Houston Worldfest prize.
David Kennard: Creator/Co-writer/Series Producer

1993/4: The Heart of Healing
Clients: Turner Broadcasting and Time Life Video and Television
Two versions of a multi-part series, featuring connections between psychology and medicine globally. Premiered on TBS, Oct 27, 1993.
David Kennard: Creator/Co-writer/Series Producer.

1992: Dangerous Years
Client: The Discovery Channel.
One hour special on the Cold War in the 1950's, featuring Presidents Nixon, Bush, and Reagan, CIA and KGB operatives. Hosted by John Chancellor of NBC, premiered November 3, 1991.
David Kennard: Co-writer and Senior Producer.

1992: Apple Global.
Client: Apple Computer Corporation
Fifteen-minute world presentation tape to accompany global
restructuring of Apple and launch of Power Books and Quadras.
David Kennard: Writer/Producer/Director

1991: Things to Come
Clients: Channel 4 (UK), La Sept (France) RTVE (Spain), etc...
Thirteen-part series on the future, created for commercial broadcasters across Europe (with video distribution in US).
David Kennard: Creator/Co-writer/Series Producer.

1990: Imagine This World
Clients: Unum Corp, National Foundation for People with Disabilities
Two versions of half-hour special featuring two girls with Cerebral Palsy for PBS release. David Kennard: Producer/Director

1990: Little by Little
Client: Channel Four Television, London/International Distribution
One-hour special on revolutionary new "nanotechnology" and microtechnology. Winner of CNRS/International Science Film Festival Jury Prize.
Written and Produced by David Kennard


DAVID KENNARD'S TELEVISION CREDITS (TO 1989)

· MINIDRAGONS, a series of four documentaries on South Korea, Hong Kong, Taiwan and Singapore. (Co-Executive Producer): 1989, NHK/Japan, Film Australia and
WMPT (Maryland)

· THE BLUE REVOLUTION, eight-part series featuring adventures on the world's oceans. (Developer/Co-writer): 1988 Discovery Channel

· WE THE PEOPLE, a four-part series with Peter Jennings, celebrating the bicentennial of the U.S. Constitution. (Co-Series Producer): 1987 for Merrill Lynch and the American Bar Association: Distributed on PBS.

· THE WEST OF IMAGINATION, a six-part drama-documentary series on the artists of the American West. (Executive & Series Producer/Director/Co-writer): 1986 for PBS

· THE LIVING BODY, a twenty-six part series on the human body, hosted by
Dr. Christian Barnard. (Producer/Director): 1985 for the Discovery Channel (US)

· THE HEART OF THE DRAGON, a twelve-part series on China with McNeil/Lehrer. (Producer/Director and Co-writer): 1983/4 for Channel 4 (UK) and PBS

· THE HERO'S JOURNEY, a video and TV special with Joseph Campbell.
(Director) 1982, for PBS and video/educational distribution

· THE COMMUNICATIONS REVOLUTION, a three-part series with
Arthur C. Clarke. (Executive Producer/Location Director): 1980 for Coronet/MTI

· COSMOS, a thirteen-part series on astronomy and the planet Earth, hosted by Carl Sagan. (Senior Producer and Location Director): 1980 for PBS, BBC

· CONNECTIONS, a ten-part series on inventions and technology with James Burke. (Co-Series Producer/Director): 1978 for PBS & BBC

· THE AGE OF UNCERTAINTY, a thirteen-part economics series with Professor John Kenneth Galbraith (Producer/Director): 1976 for BBC & PBS

· THE SUNDAY DEBATE, three twelve-part studio-based series on major social issues, hosted by Robin Day. (Series Producer): 1973-1974-1975 for BBC

· THE ASCENT OF MAN, a thirteen-part series on the history of civilization with
Dr. Jacob Bronowski. (Producer/Director): 1972 for BBC / Time-Life Films

· GERMANY, a ten-part series on the history of Germany from Bismarck to Hitler and the Berlin Wall. (Director): 1970, for BBC and NDR (Germany)