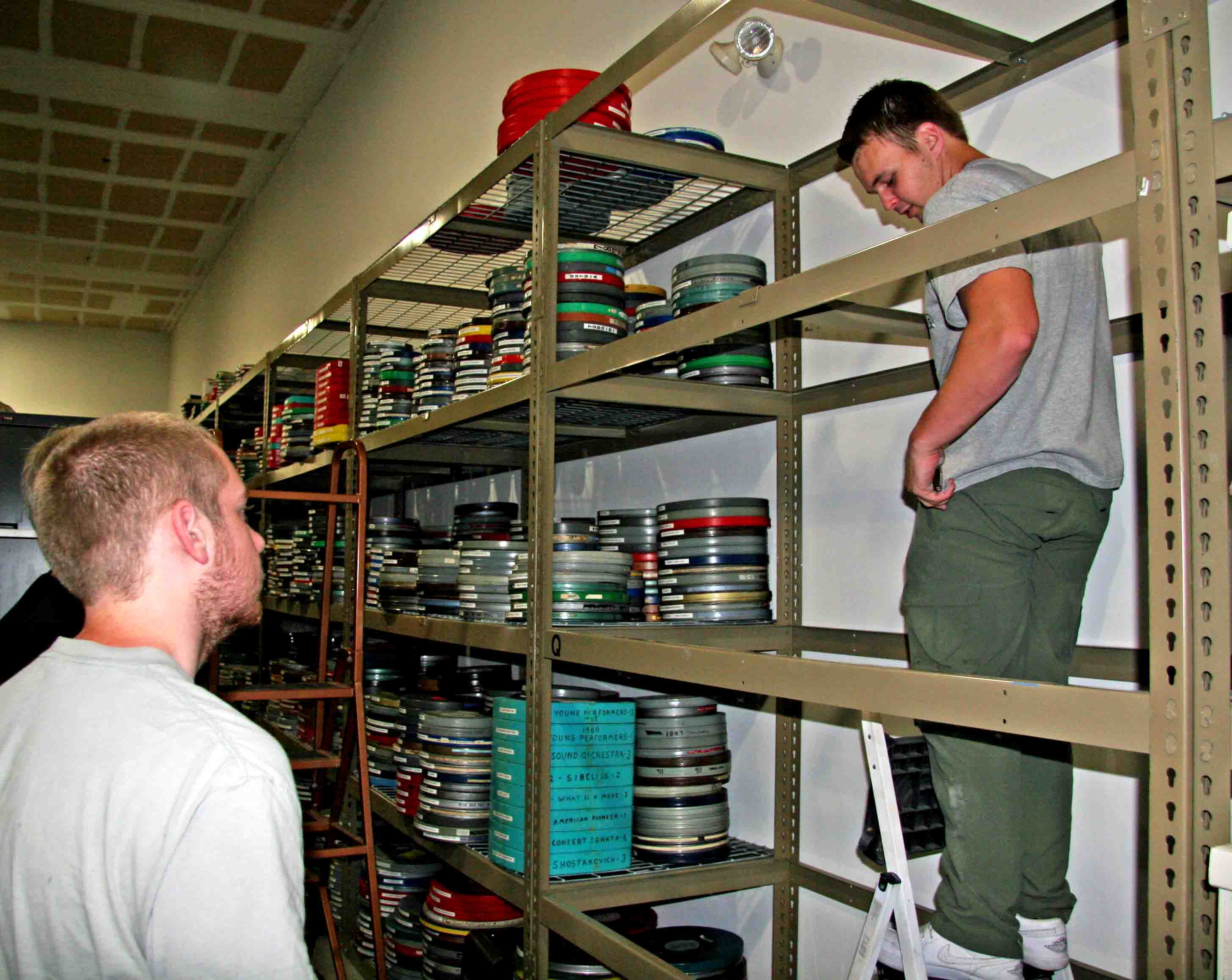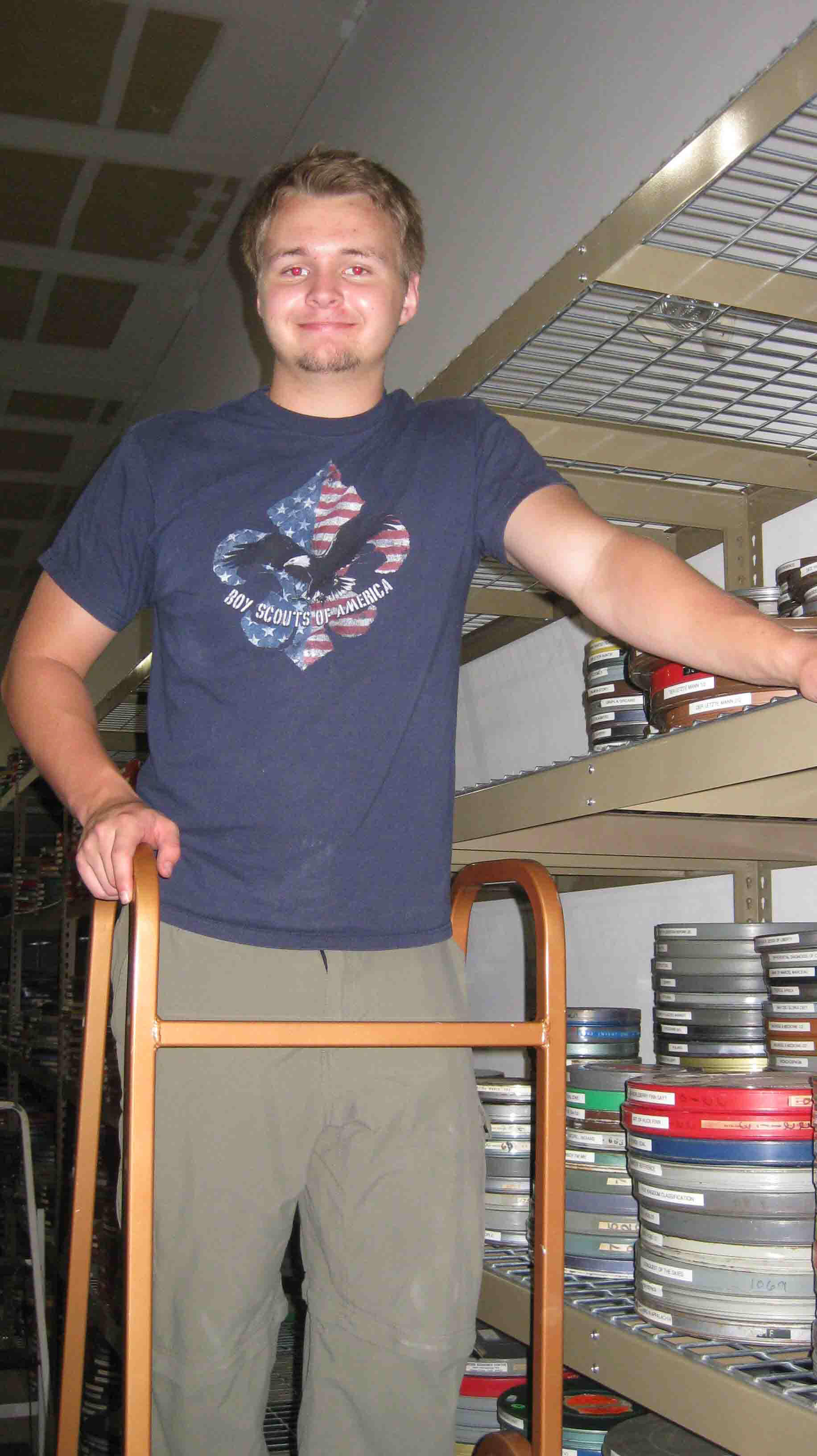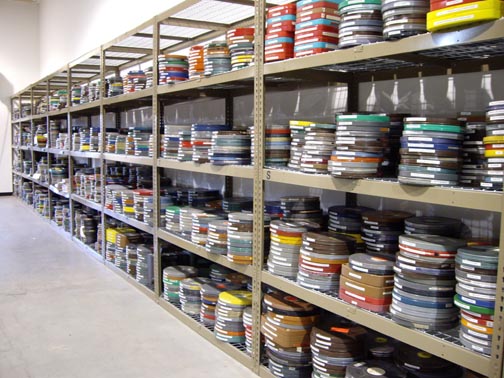 (L to R) Films are removed, shelves rebraced; Thomas Peterson at work; films are labeled with locator data and reshelved.
AFA Reshelving and Retrieval Project, August, 2012
By early 2012, it was apparent that we here at the Academic Film Archive of North America (AFA) had two dilemmas. The bracing on the metal shelves that hold our films at History San Joseís Collection Center was never installed properly and they were buckling under the weight of tons of 16mm films. The company that installed them more than a decade ago was out of business, so no one could figure out where to buy rebracing struts. A sub-element of that dilemma was that in order to rebrace the shelves, more than 5,000 films would have to be removed first.

There was another dilemma. Our Access database never had a bin locator field, so we had to go through up to 5,000 films manually, bin by bin, in order to find a particular film.

The solution to these dilemmas took place in August 2012 in a project led by Eagle Scout candidate Thomas Peterson. Thomas was in search of a project to assist a non-profit organization to better serve its community. AFA Board member Dan Greenbank mentioned to Thomasí parents that the AFA had a huge problem with shelving. Thomas cobbled together a team, put together a project plan, and over the course of a month, the project was completed. The completed project earned him Eagle Scout honors, and we are indebted to him, his parents Mark and Kathy Peterson, and the team.

Here are some of the highlights:

1) Thomas sourced bracing struts from a company in Los Angeles (500 miles south). He and his parents drove to pick them up. When they returned to San Jose, they painted them to match the AFA shelves.

2) Mark Peterson created a locator field for the AFA database.

3) Thomas and the team removed 5,000 films from their shelves and rebraced the shelving structure.

4) A new shelf lettering and numbering system was implemented. Thomas printed location alphanumeric stickers which were applied to each individual film can. As the films were reloaded onto the shelves, their locations were logged into a master book that eventually became an Excel spreadsheet. The new locator information was logged into the AFA MS Access database.

5) To save increasingly needed space, the decision was made to delete all duplicate films from the archive, keeping the best print. Thomas and his team set all duplicates aside so that the AFA could initiate the deaccession process.

In summation, Thomas Peterson made a significant and positive difference to our organization. Our archiveís holdings are accessed in service to a number of other organizations every year. Until the completion of Thomasí project, finding a film was arduous, and involved potentially looking through stacks of more than 5,000 films to find a given film, a process that could take hours. After the completion of Thomasí project, the retrieval process now literally takes seconds. Since our mission involves the digitalization and uploading of films for free public access, Thomasí project was essential in allowing us to accelerate the success of our mission.

We thank Thomas, Mark, and Kathy Peterson, Thomasí work team, and Dan and Karen Greenbank. This entire project was a totally volunteer effort, and the total cost to the AFA was a few pizzas. And congratulations to Thomas Peterson for earning the rank of Eagle Scout.