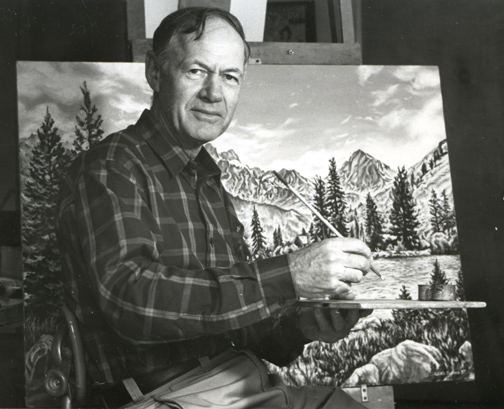 View Willis Simms' student-made films Circus, Classroom Safari, Earth Investigation, The, Film Making Experience, A (The Night Before Christmas), Journey in Time, "Original of Dan's Trip to Planet Phi" , Our Class Makes a Film: We Travel with Marco Polo, Progress?, and The Romp.
Willis Simms created a unique body of film work, primarily consisting of nine films made by his animation and art students at Charles Evans Hughes Junior High School in Woodland Hills, California, from 1959 through 1977. The themes ran from animated circus animals to outer space fantasies to ecological themes. Several of them featured scores by Hughes' music teacher Robert Clark. Simms' first film, Circus, featured the Hughes student band, led by Clark. Simms made a total of fourteen films, nine films of which were made by students in his classes. Five of his films were animated by Simms alone. Only six of Simms' films ever achieved distribution by educational media companies, three of which, Circus, A Film Making Experience (The Night Before Christmas), and Our Class Makes a Film: We Travel with Marco Polo, were made by his students in his junior high school art classes. In terms of uniqueness, creativity, and charm, his classroom films are exceptional. They have been out of distribution for some time, but we here at the AFA are in the process of hosting them on the Internet Archive for free viewing.
The genre of student-made animation films
Simms was not the only school teacher of the era engaged in making animated films with his students. Merle Cunnington, like Simms, also a political cartoonist, taught school for 18 years, later opened his own private art school, and is believed to have made at least one film with his students in 1975 at the now-defunct Christopher Columbus Junior High School in Canoga Park, California. That film is believed to be lost. In the 1960s, in the eastern United States, animator/filmmaker Yvonne Andersen began teaching groups of children to make animated films through her Yellow Ball Workshop, producing short films such as Bag 5, which was made through Project Incorporated in Cambridge, Massachusetts. A major difference in the work of Simms and Andersen is that Simms' films are each a collaborative effort among a number of students, while each of Andersen's student-made films consists of an individual effort by one student. Another teacher involved in student-made films was Dave Master of John A. Rowland High School in Rowland Heights, California. Unlike Simms and Andersen, who both produced 16mm films, Master's student's produced 8mm films, primarily due to funding restraints. Master was able to convince a number of animation experts to visit Rowland High School and work with his students, and also was able to get his student's films shown at the Los Angeles Student Film Festival. Luminaries such as Chuck Jones, Friz Freleng, Ollie Johnston and Frank Thomas (two of Disney's Nine Old Men), and June Foray participated in student workshops led by Master. Many of Master's students eventually accepted positions within Disney Studio's animation department.

Willis Simms' Biography

Willis Edwin Simms was born October 6, 1922, in Ceres, California. As a child, Willis felt compelled to draw, creating farm animals, the people around him, and the ideas they discussed. Humorous sketches from his teen years include a high school barn dance, with cows and chickens dancing along with teenagers on the floor while couples chat discreetly in the hayloft above. His lifelong interest in astronomy and cosmology was stimulated by early exposure to the night sky as he tended irrigation ditches on the family farm. His artistic talents and commitment to conservation were nurtured by his keen observations of the natural world in the weedy margins of the farm and irrigation canal. Nature and futuristic sky fantasies would eventually be featured prominently in the films made by Simms' junior high students.

He trained to be an engineer, his education interrupted by World War II, where he was stationed on Johnston atoll, servicing planes landing on the 1-mile-long island on their way to or from the Asian Pacific Combat Theater. Eventually, he received an AA in Engineering, a BA, and an honorary MS Degree with a concentration in Meteorology.

After the war, Simms settled in Los Angeles, hand-built a house, and graduated from Cal State LA with a certificate to teach secondary school art. He began teaching in the rapidly developing San Fernando Valley at Hughes Junior High School. In 1959, his junior high class produced a 10-minute animated film, Circus, distributed by Bailey Films. Program notes from a 2002 showing of the film in Germany note: "In addition to creating the main character in the scene, each student painted multiple images, created backgrounds, and cut out the figures, which were then filmed by Simms. In this fine example of what motivated students are capable of producing when inspired by a creative teacher…"

He retired from teaching in 1979 and worked until 1985 as a technical illustrator for Hughes Aircraft. After retiring, he pursued painting and engaged in environmental projects. He passed away on February 16, 2009.

Simms' films consist of delightful fantasies invented by his students, who created all the figures, painted backdrops, sets, graphics, and credit rolls. In several cases, the students themselves are shown in the act of developing materials used in the films. The fact that Simms was successful in getting three of his student-crafted films distributed nationally makes them all the more remarkable. A book of Simms' environmental cartoons, Bulldozer in Paradise, was published posthumously.


Willis Simms' Filmography

Circus 10m, 1959, color, sound. Here, a cartoon circus is created by Willis Simm's animation class at Hughes Jr. High School, Woodland Hills, California, with a musical soundtrack performed by Hughes' music teacher Robert Clark. The film is reminiscent of Alexander Calder Performs his "Circus" (Whitney Museum, 1955). This film takes an approach similar to that of Calder, whimsical, poetic, fantastic, but created by his junior high students, rather than the artist himself. Distributed by Bailey Films.

Classroom Safari 4:40, undated, color, sound. Here, a bored boy in classroom fantasizes about wild animals. The adult appearing as the teacher is unidentified. Animals sounds and the motor noise of the safari car are all provided by children's voices, which adds to the exceptional charm of this film.

Coil Bowl, The 5m, undated, black and white, silent. Animated by white paint on a series of black cards, Simms here describes the making of a coiled clay bowl.
Earth Investigation, The 5:29, (1976), color, silent. A film made by Simms' Animated Art class, showing aliens in UFOs investigating, then attacking the earth.
El Perico 11m, 1966, color, sound. A Spanish language film. Uses animation by Simms to present the story of a parrot for beginning language students. Tells how Pedrito, a clever parrot, is kidnapped by a magician and then returned to his owners after a circus performance. Narration is by a native speaker. Produced by Sigma Educational Films, Distributed by Film Communicators.

Film Making Experience, A (The Night Before Christmas) 10:23, 1974, sound, color. Made by Willis Simms' 6th Period Art Class at Hughes Jr. High, Woodland Hills, California. The film depicts the making of the film as well as the finished product, with Bolex camera, the construction of miniature sets, lighting and splicing. The jazz sound track is performed by Robert Clark, music teacher at Hughes Jr. High. The narration was done by veteran actor Marvin Miller. The girl shown splicing footage is Simms' daughter Laura. Distributed by Salenger Educational Media.

Frère Jacques 15m, 1962, sound, color. Recounts the folk tale about a monk who had a difficult time waking up in time to do his job of ringing the church bells. Uses animation and simple French phrases to introduce viewers to the basics of the French language. Distributed by BFA.
Journey in Time 6:36, 1977, color, sound. Simms' Animated Art Class portrays an animated trek through the past and future.

La Piñata 11m, 1964, color, sound. A Spanish language film animated by Simms. Uses animation to tell the story of Pepe, who works in a Mexican piñata factory. Designed for first - year Spanish classes. Narration is by a native speaker. Produced by Sigma Educational Films, Distributed by Film Communicators.
Our Class Makes a Film: We Travel with Marco Polo 14m, undated (1975?), sound, color. This film follows each step in the production of a 16mm film on the travels of Marco Polo made by seventh graders, and shows the motion picture the students made. Wiilis Simms' 7th Grade Art Class at Hughes Jr. High School in Woodland Hills, California, is shown crafting papier-mâché figures and painted backdrops for a film that was made over two semesters. Music by Robert Clark, narration by daughter Ellen Simms and neighbor Kenneth Jones. Produced by Sigma Films, distributed by ACG.

Pets, The 3m, undated, color. Simms-animated sequences of animals, to a song written by Malvina Reynolds, sung by Marcia Berman.
Progress? 5m, 1971? color, sound. About the film, Simms' daughter Ellen Simms writes: "It gives some insight into my dad's perspective on the world and why he was so committed to environmentalism. The film seems to recapitulate his lifetime experience of watching natural areas filling up with built environment. 'Progress?' reflects his service on the LA City Solid Waste Management Committee, which advised the city on landfill placement. He was seeing all these beautiful steep wild canyons with streams getting filled in with garbage, capped, and then built on as mesas." The narration was written by Mr. Steinberg's Third Grade class.

Romp, The 3:50, 1971, color, sound. A wild film focusing on galloping, flying, and growling animals, and features a fascinating abstract art sequence. Created by Simms' Animation Class, with music by the Hughes Jr. High Stage Band, conducted by Elliot Myro.

"Original of Dan's Trip to Planet Phi" 8m, undated, 8m, color, silent. A soundtrack was never added to this fascinating film, a futuristic fantasy showing Simms' students making animated pictures and transparencies in the classroom.