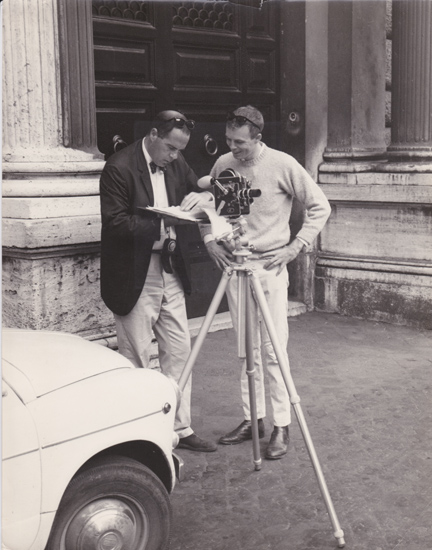 Lane (L) & Mallory Slate, Florence, 1964
Lane Slate was an exceptional producer of documentary films for NET (National Educational Television), whose work was distributed to schools in 16mm format. He worked with a number of collaborators including his cousin, filmmaker Mallory Slate, noted film editor David Hanser, director Richard O. Moore, and writer James Salter. We are in the process of collecting a biography (thanks to David Hanser for the filmography and much of the biographical information below).
He may have begun his film career by working in the mail room of Louis De Rochemont's production company (The March of Time was a well-known De Rochemont series). In 1962, he formed a working relationship with writer James Salter (they met while Salter was selling swimming pools, a part-time job for him), and they produced a ten minute documentary, Team, Team, Team, which won a prize at the 1962 Venice Film Festival. Of him, Salter noted in a New Yorker interview dated August 4, 1997: "He was irreverent and well-read, an expert on Joyce, on films, on painting… Lane and I formed a company and made documentaries --- ten or twelve of them, scraped together, some of them eloquent. We travelled over the country, flying, driving, checking into motels, the mindless joy of America, beer bottles lying by the roadside, empty cans tumbling like paper. It is his curious charm that I remember, and how quickly he could make himself liked." They parted ways after their final documentary was finished.
At NET, Lane's legacy includes a number of films in the 'Creative Person,' 'Legacy,' and 'USA:Artists' series. In addition to his directing and producing work, he wrote scripts for CBS News documentaries (e.g. A Question of Chairs: The Challenge to American Education, (1965? dir. Mel Ferber). Post-NET, Slate served as the writer on more than 24 television shows and feature films, from 1972 through 1978. He won an Emmy in 1977 for best teleplay for the TV film 'Tail Gunner Joe.' Lane Slate died of hepatitis in 1990.
He leaves a legacy of compelling documentary films. None are available today for public viewing, a loss than we hope will one day be rectified. A special thanks to David Hanser for helping us to tell Lane's story. Please contact us for any additions, corrections, or omissions.
Films produced and/or directed by Lane Slate
Team, Team, Team (1962, with James Salter)
Exhibition: Contemporary American Painters (1963, WCBS, with James Salter)
'The Circus' series in 1964 for NET made with James Salter, consisting of ten films, as follows:

Bulls, Bears, and Chimpanzees
Canvas
Cats and Dogs
Flyers, The (dir. Mallory Slate)
High in the Air
I Loved John Ringling
Life on the Wire
Mud Show
Performers on the Ground
Star, The
'Legacy' series for NET:

Be With Us Now (1964?, dir. Mallory Slate)
Bernini's Rome (1965, dir. James Trainor)
Commit or Destruct (1966)
1851: Crystal Year, The (1965, dir. James Trainor)
Paracelsus (1965, dir. Mallory Slate)
Stones of Amiens, The (1965, dir. James Trainor)
Sun King, The (1965, prod Mallory Slate, dir. James Trainor)
Voice Cries Out, A (1965. dir. James Trainor)
Verdun (1965, dir. James Trainor)
West and the Wind Blowing (1965, dir. David Hanser)
'USA: Artists' series for NET:
Andy Warhol/Roy Lichtenstein (1966)
Barnett Newman (1966)
Claes Oldenburg (1966, dir. Mallory Slate)
Frank Stella/Larry Poons: The New Abstraction (1966)
Jack Tworkov (1966)
Jasper Johns (1966)
Jim Dine (1966)
The New Abstraction: Ken Noland/Morris Louis (1966)
Robert Rauschenburg (1966)
Willem De Kooning (1966)
Other films:
Chicago Picasso, The (1967, dir. Mallory Slate)
Concert of Sacred Music, A (1965, dir/prod. Richard O. Moore, e/p Lane Slate)
Darius Milhaud Part I: A Recollection of the Twenties & Part II: Paris & California (1965, dir. Richard O. Moore)
Duke Ellington: Love You Madly (1967, dir/prod. Richard O. Moore, e/p Lane Slate)
Inezita Barroso (1967)
John Ciardi: Poet & Critic (1964?)
Robert Osborn: Graphic Artist (1964?)
Roberto Burle Marx (1967, dir. Mallory Slate)
Sao Paulo 9: Art Exhibition (1967, dir. Mallory Slate)
Wesley Duke Lee (1967)
World of the Bossa Nova, The (1967)
Monterey Jazz Festival: Tenth Anniversary (1968)
Lloyd Reynolds: Calligrapher (1969)
Venice 34: Art Exhibition (1969)
World of Nicolai Gedda, The (1969)
Silverbird (1970)
Trail of Tears, The (NET Playhouse, 1971, starring Jack Palance, Johnny Cash, and Pat Hingle, music by Max Roach)