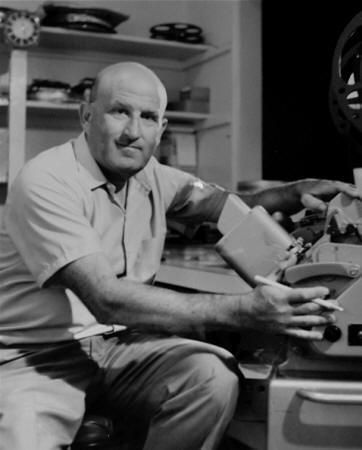 Photo by Howard Wexler
(The following remembrance was sent to us by David Wexler in March, 2005)
Sy Wexler: October 6, 1916 - March 10, 2005
Sy Wexler was a true entrepreneur, creative artist, documentarian, friend and family leader. His sharp humor, inquisitive mind, generous heart and gentle spirit will be greatly missed.
Born Simon Wexler in New York City October 6, 1916 to parents Etta Brinks and George Wexler, both born in Austria, in 1894 and 1892. George, a plumber, continued the profession after emigrating to America and settling in New York City.
Sy is survived by his loving artist wife of 63 years, Helen, filmmaker son Howard, film preservationist son David, grandson UCLA student Aaron, 21, grandson Ian, 16, granddaughter Melanie, 13, and daughters-in-law Evone and Julie.
Sy lived a simple and thrifty life. He owned a handful of shirts, ties, and shoes, although he occasionally bought himself a new tennis racket. His bookshelves were lined with numerous self-help books, journals and newsletters about alternative medical concepts and practices. He read the New Yorker, Scientific American, and National Geographic. With Helen's help and an aged copy of Bartlett's quotations, Sy composed a poem for every family occasion.
Sy attended City College of New York, studying chemistry, and worked for a scientific researcher, which afforded him the opportunity to meet Albert Einstein.
Sy served as a Lieutenant in the US Army Signal Corps as a cameraman. In 1945 he worked with Frank Capra on the seminal documentary series Why We Fight and Know Your Enemy.
On December 23, 1942, Sy married his Earl Robinson Chorus singing partner, Helen Rosalind Nager. The couple settled in Los Angeles and had two sons, Howard Adam, and David Paul. Soon, they took the advice of former Signal Corps comrade, artist Dave Rose, and bought a house across the street from him in Hollywood. They waved to each other often, for over fifty years.
Sy built a small film studio on Seward Street in Hollywood and produced educational films with partner Bob Churchill. At the time, Seward Street and the neighboring area was the center of the film production world in Hollywood, with laboratories, title and effects houses, cartoonists, animators, stages, and numerous film production and support businesses. Churchill/Wexler Film Productions became a leader producing instructional films with titles like: Ways To Find Out, Wonders In Your Own Backyard, Squeak The Squirrel, Human And Animal Beginnings, and Boy To Man. The studio, which Sy affectionately called "the shop", was staffed with artists, animators, technicians and editors. It was equipped with a darkroom, stage, stop-frame camera stand and a 16mm contact printer for making dailies and prints. A bustling shipping department sent 16mm preview and sales prints to school districts and learning institutions across the country and around the world. Afternoon tea time at the studio, precisely at 4pm, was legendary on the street for its hospitality and lively, far-flung discussion. Most days, tea was prepared by the local mailman or UPS driver.
Of the 300+ titles produced, most won awards and were highly acclaimed for content, animation style and for enabling teachers to easily communicate difficult subjects like sex education, alcohol abuse, nutrition and science. Most school kids from 1950 onward probably saw at least one Churchill/Wexler film.
The studio became a place for many future filmmakers to get their start. Current industry veterans David S. Ward, John Simmons, Greg Gardiner, Mandy Luther and Joy Rencher spent time at the studio. Other staff and collaborators included Diane Hauck, Sin Hock Gaw, Dan Warnock, Bill Hurtz, Dede Allen, Robert Snyder, Irving Lerner, Marilyn Engle, Baylis and John Glasscock, Larry Yust, Isidore Mankofsky, Carleton Moss, Mallory Pierce, Greg Williams, Emmit Edwards, John Whitney, and narrators Vic Perrin and Roger Steffens.
Sy contributed to the 1960 film The Savage Eye, produced by Ben Maddow, along with photographers Helen Levitt, Jack Couffer, Haskell Wexler and Joel Coleman. Sy also co-produced the 1964 Eastman Kodak World's Fair film The Searching Eye, with Saul and Elaine Bass and Elmer Bernstein. Both projects were considered high-water marks in the annals of modern documentary filmmaking.
From 1965 to 2001 Wexler Film Productions specialized in medical and scientific films, and became a world leader in the field. Sy made films for most of the major pharmaceutical companies, The House Ear Institute, hospitals and clinics. Filming surgical techniques for doctors, medical instrumentation training films and videos for nurses kept "the shop" busy. Other interesting projects included an animated film about the Bill of Rights, a film to demonstrate a new voting machine, and a multi-award winning instructional about how germs can easily spread in hospital settings.
The remarkable film Human Heredity, with Eddie Albert, set a precedent for presenting a difficult subject with style and taste. In 1976 Sy produced the award winning film The Human Brain, A Dynamic View of Its Structures and Organization, for Dr. Robert Livingston, which garnered worldwide acclaim for its groundbreaking 3-D imaging.
Sy's lifelong quest for knowledge and understanding was perhaps exemplified in his film A Lifetime of Learning. A perennial learner, voracious reader, music lover and USC School of Cinema lecturer, he was a founding member and unprecedented four-time President of The Mulholland Tennis Club. He also had the great pleasure of meeting the fourteenth Dali Lama of Tibet. Sy hiked the Yosemite High Sierra Camp trail twice, tried skiing, and served a stint as Treasurer of Boy Scout Troop 31.
During the last year of his life, Sy was accompanied by a caring, supportive, and loving team of care-givers. They helped him daily, discussed world events together, postulated on the state of modern medicine, shared food cravings and delights, marveled at the flora and fauna of the backyard garden, and laughed together at his endless stream of corny yet touching one liners. The family is eternally grateful for the wonderful support of the noble folks who gave of themselves to be of service to him.
At his request, his physical body will be used for medical research and training, for use by the next generation of explorers.
Notes of remembrance can be sent to:
The Wexlers, 742 Seward St., Hollywood CA 90038
- or -

David Wexler: davidwexler@hollywoodvaults.com
Howard Wexler: howwex@earthlink.net