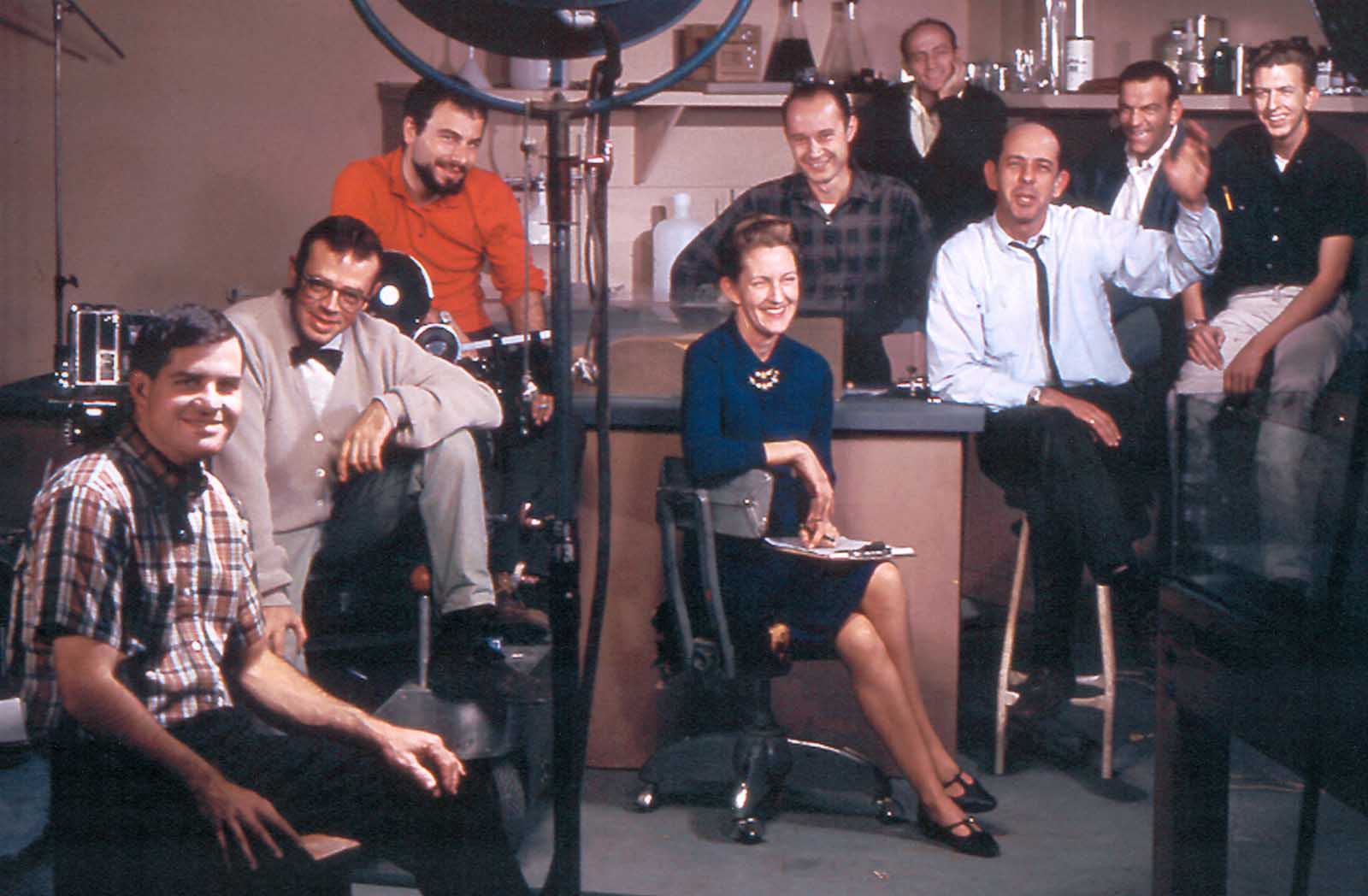 EB's West coast film unit, circa 1965. L to R: Warren Brown, Jim Christensen, Fred Goodich, Jeanne Tucker (receptionist),
Chuck Finance, Isidore Mankofsky, Stan Croner, Bill Varney, Paul Leimbach (courtesy Isidore Mankofsky)

Stanley Croner directed, wrote, and produced many significant academic films in the 1960s and 1970s, primarily for Encyclopaedia Britannica Films. Croner's history films for EB were edgy for their time. Santa Fe and the Trail (1963) was perhaps the first time that subtitled bilingual language was used in an historical educational film, as Croner insisted that Spanish be used for authenticity. Interracial romance and mutual respect between the cultures were dual themes that were presented a good ten years before they began appearing more frequently in films of the mid-1970s. Gold Rush (1965) featured naked bathers, card sharps, prostitutes, and the exhumation of corpses believed to have been buried with gold. Stan Croner passed away on August 8, 2008. He was noted for standing by his principles when it would have been easier (and perhaps more lucrative) not to. He is missed by all of us.
Stan provided the Academic Film Archive of North America with the following autobiography and filmography.
_____ . _____

Autobiography
Stan Croner was born February 8,1927 in Baltimore, Maryland. When he was about five years old, his family moved to Charlotte, North Carolina. He grew up there, in a segregated southern society in the 1930s and early 1940s, before the civil rights movement got underway. He attended public schools, went camping with friends, saw films and became especially interested in still photography. The last two years of high school were spent at Riverside Military Academy in Georgia. In 1945, as World War II was winding down, he turned 18, enlisted in the US Navy and became a Photographers Mate. When the war ended, he was honorably discharged.

The years 1946-49 were enjoyably spent as a student at the University of North Carolina in Chapel Hill. Croner received his BA in English and American Literature. He and a friend hand-built a small house near Chapel Hill to live in. He took photographs for Carolina magazine. In 1947, Croner and a student writer traveled to France and published picture stories in This Week, Pont de Vue and Parade magazines .

In 1950, Croner moved to New York to practice still photography. He published more picture stories, including one in Flair magazine about Thomas Wolfe and Asheville, North Carolina, titled 'Altamont Fifty Years Later.' During this time, Croner saw and was impressed by Neo-Realist and New Wave films coming out of Italy and France, and by films and still photographs being made elsewhere. In a post-war world, human sensibility was changing. Films and stills dealt with real life in a deeply moving way. They offered audiences a more compassionate view of the human condition and pointed the way toward a better, more just world.
In 1953, Croner joined the film unit of Colonial Williamsburg in Virginia. There he worked on filmstrips and films about 18th century life in Virginia. In 1960, he joined the filmmaking unit of Encyclopedia Britannica Films in Hollywood, as a producer and writer-director. He was Executive Producer of the unit for about five years. He enjoyed working with filmmakers such as Thomas Smith, Charles Finance, Isidore Mankofsky, Jim Cristensen, Bill Varney, Fred Goodich, Tom Chamberlin and Larry Yust, and advisers such as Al Baez and John Shelton. In 1972, Croner left Britannica to freelance. He moved north to Mendocino, California, in 1977, to pursue other interests. There he wrote and produced the book, An Introduction To The World Conservation Strategy.


Filmography

Music Of Williamsburg (1960, dir. Sydney Meyers). Written and associate-directed by Croner, released in 1960 by Colonial Williamsburg, Inc. A film without narration about the different kinds of music - by whites and by blacks - that might have been heard in Williamsburg, Virginia in 1768. Especially noteworthy because it shows African-Americans as gifted people making music in the 18th century. Croner enlisted the help of Alan Lomax, a well-known ethnologist and folk music collector to choose the music and find the people who could make the music. Made in the 1950's during a period of racial unrest, this is a forward-looking film.

Introduction to Physical Science, a film series by Encyclopedia Britannica in the early 1960s, made in collaboration with Albert V. Baez, Ph.D., Science Education Consultant to UNESCO. Croner directed the following films:

 Atomic Energy - Inside the Atom
 Evidence for Molecules and Atoms (1961)
 Forces (1961)
 Vibrations
 Waves And Energy (1961)

AGI-EBF Earth Science Series, a film series by Encyclopedia Britannica, made in collaboration with the American Geological Institute, John S. Shelton, Ph.D., Chief Adviser. Croner produced the following films, several of which were also written by him:

 Beach: River of Sand (1968, dir. Warren Brown)
 Erosion: Leveling the Land (1964, dir. Bill Varney)
 Evidence for the Ice Age (1965, dir. Chuck Finance)
 How Level is Sea Level?
 How Solid is Rock?
 Rocks That Originate Underground (1966, dir. Chuck Finance)
 Rocks That Form on the Earth's Surface (1964, dir. Chuck Finance)
 Waves On Water (1965, dir. Chuck Finance)
 What Makes Clouds? (1965, dir. Warren Brown)
 What Makes Wind Blow? (1965, dir. Warren Brown)
 Why Do We Still Have Mountains? (1964, dir. Warren Brown)

The following EB films were produced by Stan Croner
- Eyes and Seeing (1968, dir. Chuck Finance)
- Why Plants Bend Toward the Light (1966, dir. Chuck Finance)
The following films were produced and directed by Croner for Encyclopedia Britannica Films in the 1960s and 1970s:

 Gold Rush (1965)
 Lord, Let Me Die, but Not Die Out - James Dickey, Poet (1970)
 Monkey and The Organ Grinder (1971)
 Oregon Trail (Not listed in EB catalogue. This film was probably released under another name)
 Our Living Bill Of Rights: The Sheppard Case: Free Press vs. Fair Trial by Jury (1969)
 Population Ecology (1963)
 Salt Marsh: a Question of Values (1975)
 Santa Fe and The Trail (1963)
 Settling of the Great Plains (1963)
 The South: Roots of The Urban Crisis (1969)

Stan Croner was the Executive Producer for the following Encyclopedia Britannica films made in the 1960s and 1970s:

 Hospital, The (1966, dir. Kenneth M. Rosen)
 Alcohol Problem, The: What Do You Think? (1973, directed by Michael Ahnemann)
 Drug Problem, The: What Do You Think? (1972)
 The Tobacco Problem - What Do You Think? (1972)
 Safety On The Street (1965)
 Safety In The Home (3rd Ed., 1965)


Related Experiences

 Croner was cameraman on The Hundred Penny Box, a short fiction film about a 100-year-old black woman and a child. A film by Pieter Van Deusen and Leah Miller for Churchill Films.

 Wrote narration for The Solar System, a film by Thomas G. Smith for Encyclopedia Britannica Films, Inc.

 Wrote feature film script. State Of Emergency, based on the life of Jomo Kenyatta and the 1950s-60s revolution in Kenya.

 Worked in the shop of Charles and Ray Eames in Venice, California on two multiple-screen films. The House Of Science (1962) presented at the Seattle World's Fair, and The Look of America (1976) to celebrate the bicentennial. He also worked on the Eames film The World Of Franklin and Jefferson (1976).

 Consulted with Colonial Williamsburg, Inc. about films on slavery and wrote treatments. A film about slavery, The Runaway, was made by Colonial Williamsburg, Inc. in 1990.

 An Introduction To The World Conservation Strategy, with Forward by Indira Gandhi. This book was a project of the International Union for Conservation of Nature and Natural Resources, Commission on Education, Albert V. Baez, Ph.D., Chairman. Published by the United Nations Environment Programme in 1984. Croner wrote and designed this 28-page book, an introduction to a plan for sustainable development. It includes photographs by Ansel Adams, Eliot Porter, Raghubir Singh, Don McCullin, Bradford Washbum, Ken Heyman and others.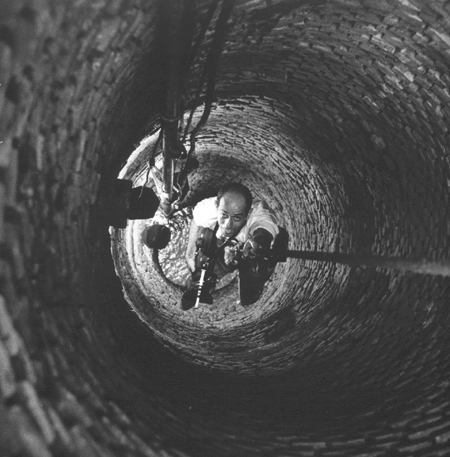 Stan Croner filming in an 18th century well at Colonial Williamsburg