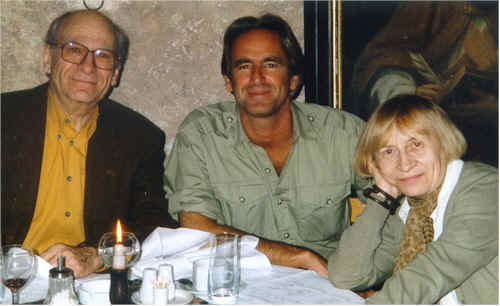 Gene Deitch, Geoff Alexander, and Zdenka Deitchova.
Prague, January 1999. Photograph by Jacklyn Stroud
___ . ___
We still have a limited number of our Gene Deitch-designed T-shirts available. Gene's also written a book called "For the Love of Prague" which chronicles his career and his relationship with Zdenka Deitchova, his wife and colleague. Visit his website for ordering information.

(The following paragraph is from Gene's autobiography, available on his website)
Gene Deitch is an Oscar-winning animation film director and scenarist. He is a voting member of the Motion Picture Academy of Arts and Scientists. In 1946 he started as an apprentice in the then cutting edge Hollywood animation studio, UPA, working as an assistant Production Designer on the first Mister Magoo cartoons for Columbia Pictures. Within five years he rose to be Creative Director of UPA's New York studio, where among his many gold-medal winning films were the famous Bert & Harry Piels beer commercials. His TV commercials were the first ever shown at the New York Museum of Modern Art; an entire month of screenings in 1954 (two more MOMA homages to Gene Deitch's films occurred, the most recent in April 1996). In 1956 CBS purchased the Terrytoons animation studio and named Gene Deitch as its Creative Director. Under his supervision and direction, the studio produced 18 CinemaScope cartoons per year for 20th Century-Fox, and won its very first Oscar nomination. He personally created and directed the TOM TERRIFIC series for the CBS nationwide Captain Kangaroo show. Tom Terrific, with Mighty Manfred the Wonder Dog, was the very first animated serial for network television. In 1958 he set up his own studio in New York, Gene Deitch Associates, Inc.

Gene soon began directing a number of films on children's picture books for Morton Schindel's Weston Woods company, as listed below. Of special note was his adaptation of Maurice Sendak's Where the Wild Things Are, which took five years to complete (Deitch refers to as the "Mt. Everest of children's books" ) due to Sendak's penchant for changes.

Deitch's most fascinating films, from our perspective, are Gene Deitch: the Picture Book Animated (1977), in which he describes graphically the painstaking process of designing a picture book, and Tomi Ungerer Storyteller (1981), an interview with the iconoclastic writer and illustrator, who insisted on partaking in a glass of whisky during the filming, ever-present just outside the frame.
Picture Book Films directed by Deitch for Weston Woods (alphabetical listing):
Beast Of Monsieur Racine, The (Tomi Ungerer), 1971
Burt Dow, Deep-Water Man (Robert McCloskey) co-directed with Vaclov Bedrich, 1983
Changes, Changes (Pat Hutchins), 1973
Cow Who Fell inti the Canal, The, 1970
Charlie Needs A Cloak (Tomie De Paola), 1977
Drummer Hoff (Ed & Barbara Emberley), 1969
Emperor's New Clothes, The, 1989
Foolish Frog, The (Pete Seeger), 1974
Happy Owls, The (Celestino Piaf-Ti), 1969

Gene Deitch: Animating Strega Nonna (Deitch describes his filmmaking methods in animating Tomie De Paola's Strega Nonna), 1979
Gene Deitch: the Picture Book Animated (Deitch describes his filmmaking methods), 1977
Harold's Fairy Tale (Crockett Johnson), 1974 (music by Czech jazz great Karel Velebny)
Hat, The (Tomi Ungerer), 1982
Leopold The See-Through Crumbpicker (James Flora), 1971
Moon Man (Tomi Ungerer), 1981
Patrick (Quentin Blake), 1973
Picture For Harold's Room, A (Crockett Johnson), 1974
Pig's Wedding (1990)
Rosie's Walk (Pat Hutchins), 1970
Smile For Auntie, A (Diane Paterson), 1979
Story, A - A Story (Gail E. Hailey), 1972
Strega Nonna (Tomie De Paola), 1978
Swineherd, The (Hans Christian Andersen), 1974
Sylvester & the Magic Pebble (William Steig), 1993
Teeny-Tiny & The Witch-Woman (Barbara K. Walker), 1979
Three Robbers, The (Tomi Ungerer), 1972

Tomi Ungerer, Storyteller (Deitch interviews Ungerer), 1981
Ugly Duckling, The (Hans Christian Andersen), 1976
Where The Wild Things Are (Maurice Sendak), 1973
Why Mosquitoes Buzz In People's Ears (Verna Aardema), 1975
Wings: A Tale of Two Chickens James Marshall), 1991
Zlateh The Goat (Live-Action) (Isaac Bashevis Sinqer, live action), 1973

Gene also directed a number of cartoons for MGM. They are:
Munro, 1960

Down and Outing, 1961
It's Greek to Me, 1961
Switchin' Kitten, 1961
Buddies Thicker than Water, 1962
Calypso Cat, 1962
Carmen Get It, 1962
Dikie Moe, 1962
High Steaks, 1962
Landing Stripling, 1962
Mouse Into Space, 1962
Sorry Safari, 1962
Tall in the Trap, 1962
Tom and Jerry Cartoon Kit, 1962